The most important interface between the transport industry and intralogistics
TIMOCOM will be on site at the LogiMat 2022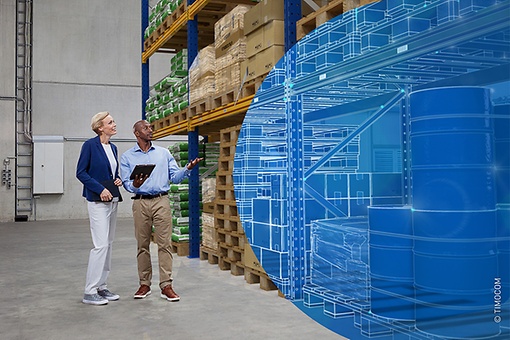 TIMOCOM, the European logistic industry's digital pioneer, will be at the LogiMAT in Stuttgart this year. From the 31st of May to the 2nd of June, TIMOCOM employees will be manning Stand G50 in Hall 8, presenting IT solutions for logistical challenges faced by industrial, commercial and transport companies.
Logistical challenges and digital solutions
One of the biggest transport industry challenges lies in the strong fragmentation within the market, and the lack of transparency between various market participants along the supply chain. There are so many digital solutions available from a variety of different providers, which means industry participants have a hard time managing their shipments simply and transparently, particularly in the case of road transport.
Digital networking creates transparency
For transport processes to function properly, stakeholders must be able to exchange relevant information. But the fragmented IT system landscape often makes this impossible. By using our APIs to to connect disparate systems to each other, we can significantly increase efficiency within logistics processes. For example, APIs allow users to create and search for freight and vehicle offers within their own transport management systems. Employees work with familiar company software while simultaneously avoiding transcription errors. They know their way around the programme, so it is quicker and easier for them to create and find freight and vehicle offers. Plus, automatic updates provide more search results faster.
TIMOCOM's Smart Logistics System is connected to 286 telematics providers, allowing business partners to offer transparent vehicle tracking to one another. The shipment tracking application currently in testing by select customers will soon allow customers and their business partners to share order status updates within the System itself. That means they will always know exactly where their goods are. "Based on the initial reactions and the high adoption rates for customers in the test phase, it's safe to say that  the shipment tracking application quite obviously provides added value," says Steven Van Cauteren, Director of Key Account & Partner Management at TIMOCOM. Shipment tracking does more than promote digital cooperation, it also facilitates better warehouse and ramp management planning processes, not to mention improved logistics planning for the carrier.
TIMOCOM's Smart Logistics System connects over 50,000 customers across all of Europe. Over 147,000 System users from 46 European countries generate up to one million freight and vehicle space offers daily. The company will be presenting the following at the LogiMAT 2022:
Information on the shipment tracking application
Price proposals for freight
Search for freight and vehicle space using TMS/ERP APIs
For over 25 years now, TIMOCOM has been an independent trailblazer and pioneer when it comes to digitalisation in the logistics industry. Transport process participants, from intralogistics departments to transport firms to industrial and trading companies, are all connected by the TIMOCOM network.
In addition, System users have access to the warehousing exchange and therefore, potentially, to more than 9,000 warehouse and logistics spaces across Europe. They can choose to search for or offer warehouse space to cover short-term additional storage needs or to store goods temporarily, or to boost bottom lines by offering unused logistics space for rent.
Download press release