Logistics expertise
10.11.2021
Guest Post: The importance of Supply Chain Visibility
by Dr. Stephan Freichel and Pia Rütten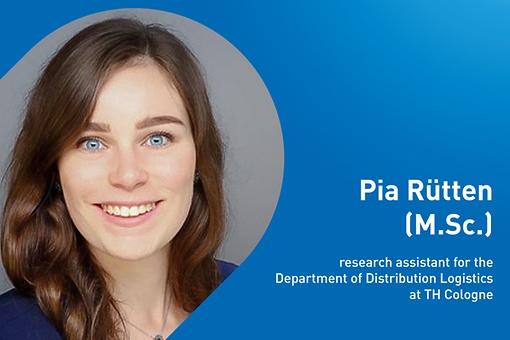 Dynamic markets and multi-layered logistics networks mean that companies are faced with even more challenges. They have to react quickly to unforeseen changes to the market and deal with supply chains that are becoming more complex, and therefore more subject to error. This was made quite clear during the COVID-19 pandemic, which has caused container ship bottlenecks and supply problems for parts and raw materials.
The effect of external influences on supply chains
Spontaneous issues arise on a daily basis in the logistics industry, and can lead to supply chain problems. The causes may be quite simple. For example, a truck may arrive late to the warehouse because it took longer to load than expected, or be late due to traffic jams or poor weather conditions. As a result, it may not be possible to meet delivery targets. Of course, not all problems can be prevented, but not knowing the ETA of goods can really cause issues for downstream processes. Promised delivery times, productivity and budget can only be maintained when all supply chain participants are well informed regarding the state of the processes and resources involved in the transaction. In the logistics industry, this is understood to be goal-oriented knowledge, or data required to make decisions. For example, if the shipping agent knows the correct arrival time for all trucks, they can permanently optimise their loading dock management strategy and increase efficiency.
Solidify supply chains using stable IT infrastructure and visible data
Transparent supply chains help logistics industry participants to make decisions. Supply chain visibility is a company's ability to identify and locate, in real time, goods, processes, and inventory both up and down stream within the supply chain. In this case, upstream refers to the processes required to turn raw materials into a finished product, or the production cycle, and downstream refers to the supply chain from production to the consumer, that is distribution. Transparent tracking is essential for both streams.
But achieving this requires that IT systems be connected to one another, and that there is enough precise data available, if possible available in real time. IT systems suitable for supporting supply chain event management can be connected to a variety of technical systems to achieve this goal. But the ability to read sensor data (e.g. from barcodes or smart containers) is not necessarily a given. Many companies continue to rely on manual data entry using paper, which is only added to digital programs at a later date. One example is camera-based entry systems that allow trucks to enter a property, but many companies who use them then manually record information about the truck on paper instead of utilising the digital information available to them.
Time for decisive change driven by risk managers and visionaries
Supply Chains – inbound, outbound and reverse logistics – should be managed not just from loading dock to loading dock within a company, but actively above and beyond those boundaries. For decision makers within companies, this means really understanding the consequences of failing to implement smart systems and the resulting lack of supply chain visibility. Recognising these consequences requires a visionary approach and a pragmatic evaluation of the advantages offered by improved visibility. This often results in the company implementing a classic change management process. Creating agile teams and providing them with training can transform the organisation, increasing efficiency and ensuring that all participants are on board and understand what needs to be done.
Socio-emotional and practical obstacles within an organisation can often be overcome as part of a change management process. This is best done by involving the participants early, providing training and ensuring that the transformation is well-planned. It is important to ensure that legal framework conditions regarding compliance and data protection (e.g. dependence and influence), as well as data and information superiority (e.g. worries about losing competitive advantages) are taken into account. Because employees may be reluctant to implement these changes, and due to the other associated challenges, supply chain visibility is a task to be taken on by high-ranking managers, not an IT project of secondary importance to be dismissed as a 'necessary evil'.
Supply chain visibility is an essential step on the road to future-proof, sustainable logistics
Supply chain visibility is becoming an important strategic product feature for (logistics) service packages, on the same level as combining shipments for physical goods. This is easy to see when looking at examples from pharmaceutical and foodstuff logistics; visibility is necessary for maintaining cold chains for foodstuffs or ensuring that vaccines are available when needed.  But other industries, such as the textile industry or high value item supply chains rely, now more than ever, on supply chain visibility to guarantee that there are no problems at any point from production to distribution. 
The industry needs universal transparency and the ability to retrace the flow of goods, particularly in the case of medications and food. Supply chain laws require it. It's what customers want. And logistics service provides have an important role to play in coordinating and integrating supply chain visibility within the industry. Supply chain visibility across the entire supply chain must become the primary goal for decision makers within the industry, to be implemented as quickly as possible.
The tracking application in TIMOCOM's Smart Logistics System creates transparency for transport orders. And you can test the application for free with no obligations to find out what it can do for you.
Test for free and with no obligations
About the authors:
Dr. Stephan Freichel is a Professor for Distribution Logistics at the TH Köln University of Applied Sciences, and has over 25 years of leadership experience, both on supervisory boards and as a director. His work focused on logistics, supply chain management and marketing and sales at companies such as GM, Merck, ZF and Microlog/Logwin. Dr. Freichel also works as an independent business consultant for well-known corporations.
Pia Rütten (M.Sc.) has been working as a research associate for the Distribution Logistics department at the TH Köln University of Applied Sciences for two years. She completed her Masters degree in Supply Chain and Operations Management at the TH Köln. Her research focuses in particular on digitalisation within the supply chain.
______________
You might also be interested in the following blog posts about the supply chain:


Resilience vs. efficiency: Stability thanks to flexible supply chains

More important than ever:Supply Chain Risk Management for industrial and commercial companies