Customer success stories: Weerts Supply Chain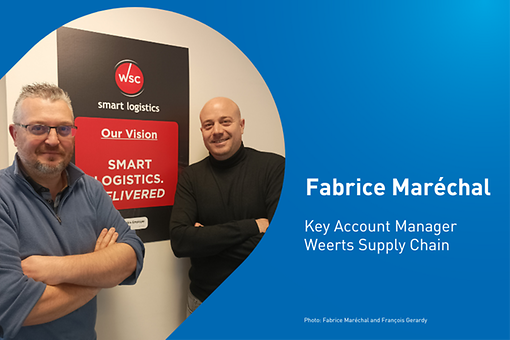 Starting with only 1 truck in 1945, family owned Weerts expands in Europe thanks to TIMOCOM
Social responsibility and tech-know-how help Flemish Weerts Group in the supply chain
Liège in Wallonia is one of Europe's hot spots when it comes to logistics. This is where we find the roots of family owned Weerts Group, where founder Hubert Weerts began serving the local community with agricultural goods through his truck in 1945. The company has since then grown into managing all parts of the supply chain, working with several blue-chip enterprises and today the Weerts Group employs more than 400 people. One of them is Key Account Manager Fabrice Maréchal, from the WSC Transport department, who knows TIMOCOM since many years.
''The TIMOCOM system has always been very helpful for me. Being successful in logistics means communicating quick and clearly and the system is very supportive for this, he says.''
In a world which nowadays seems to change faster than ever, WSC relies upon old values and a know-how of the latest technologies. The company also believes in taking social responsibility, which is reflected in using solar panels, electric trucks and offering a multi-cultural workspace, where they are happy to take on new colleagues over 50 years of age.
Having started in the local transport sector, WSC now focuses on the Benelux and eastern Europe, offering tailor-made solutions for demanding customers. With the company's focus on industrial warehousing, Fabrice Maréchal finds himself in a position, where he ties the supply chain together with his transport knowledge.
He got his first job in logistics back in 1996, in a time when European borders had only begun to open up. Back then, it was still common to use telex and fax machines. Quite a different world, where computers where just about to help automate manual processes. Coming from an area of many logistics companies, the step was not far to join the industry himself.
''Having grown up in three cultures close to the borders, it seems like there is a logistics person in every family here, Fabrice says about his native Euregio area.''
What are the key factors to be successful in logistics?
I would say speed, communicating clearly and building personal relationships. You need to be able to count on your partners, that is very important.
What is the outlook for Weerts this year?
We have bought 20 new trucks and frigos and become more and more involved in the transport market again. We are also expanding our chilled warehouse spaces and have built new storage spaces in Charleroi for chocolates, milk and fruit.
Which are the challenges for logistics in 2023, would you say?
First, the rising costs for production. Just as an example: the price for potatoes have double over the past two years. Secondly, we all hope that energy costs will decrease. For warehouses storing goods at -20C, a lot of electricity is needed. On a good note, though, prices for diesel have gone down.
Tell us about a situation how TIMOCOM helped you in your daily work?
I had a big project with flatbed trucks, in Straubing in Germany. TIMOCOM helped me to find partners there. In total we had 100 trucks going between Straubing and Belgium. This turned out to be a successful cooperation running for 4 years. TIMOCOM has opened many doors, whereas without your system, we would have been limited to working only with old partners.
Is there any function on TIMOCOM, that you would like to highlight?
Your new function, where we can offer a price directly, is very good. This helps a lot when selling loads. I also offer prices when I search for loads. This makes the communication is faster, whoever reacts the quickest will have the most success.