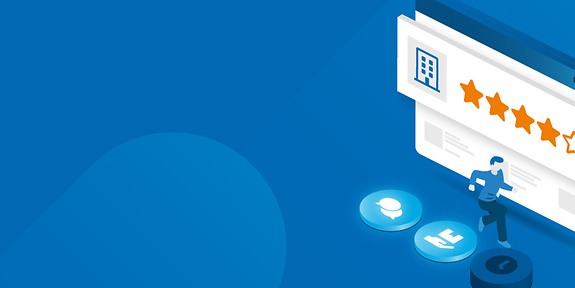 Ratings feature – increase security while searching for new business partners
Write and receive ratings for orders
The ratings feature allows you to rate your transport customers and service providers in the Smart Logistics System – ratings can be submitted once a transport is complete. You, the user, can thus contribute, order by order, to transparency within the System.
The ratings feature is an excellent addition to our System:
If you send freight, you can
benefit from:
Increased security: Positive ratings in the categories communication, handling of goods, and punctual loading and unloading of goods provide reassurance that your freight is in good hands.
First choice: A positive company score is a signal to transport customers to put your company at the top of the list of potential business partners.
Saves time: Viewing ratings given to other System users is a better, faster way to select the best business partner out there.
If you are a transport company, you can
benefit from:
Increased security: Ratings on prompt payment, fairness and communication help you to select your business partner.
Improve market value: Positive ratings contribute to your company score, giving your company a competitive advantage.
Efficiency: The new Smart Logistics System transparent ratings feature is a one-stop shop where you can discover what other people thought of working with your potential business partners.
Rate completed transport orders
Once the unloading date is passed, each business partner receives a notification informing them that they can rate the transaction, based on a standard 5 star scale. To ensure people only rate companies they have actually worked with, all ratings are assigned via the transport orders application. You can rate your business partner and view your own rating in the transport order details.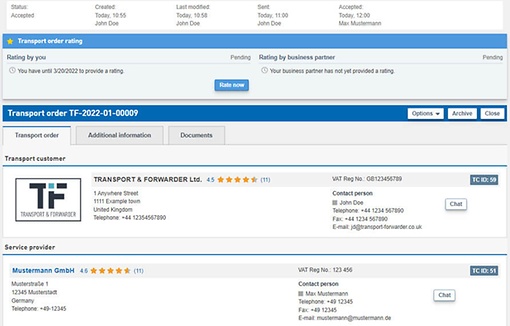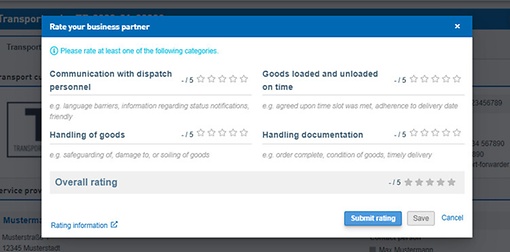 Rate different categories
Transport customers can rate the communication between business partners, whether the service provider arrived on time to load and unload the goods and how goods and documentation were handled.
Service providers can also rate communication, along with whether or not the contractual conditions were fair and whether payment was prompt.
Company score and individual ratings in the company profile
The company score is displayed in each company profile, and is comprised of transport customer and service provider ratings from the past 12 months. You will also see the average ratings for each category here.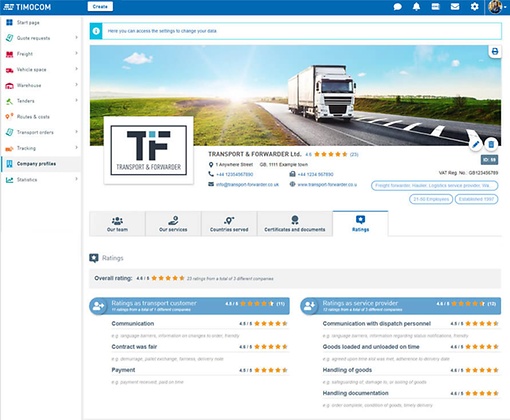 Do you have any questions? We would be delighted to help you: