Women in logistics: A Danish woman prevails
Women in logistics - Part 1 with Vivi AakjærJensen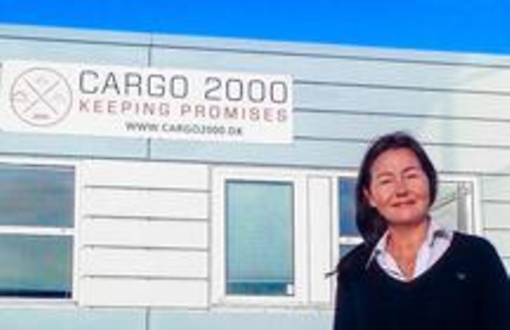 TimoCom is a future-oriented company that has taken on the mission to give the transport industry a more positive image. This involves breaking old patterns of thinking and creating room for new ideas. In a male-dominated industry such as the transport industry, the intention of this series "Women in logistics" is to support and recognise their efforts. Part 1 is an interview with the Danish freight forwarding Cargo 2000 A/S' MD, Vivi Aakjær Jensen.
TimoCom:
Hello Vivi, we already know each other. Perhaps you would like to introduce yourself to our readers.
Vivi:
With pleasure. My name is Vivi AakjærJensen and I am the Managing Director of Cargo 2000 A/S since 1st January 2016. The company has been in continuous growth since it was founded by Michael Halgrener in 2000 and today it is composed by a complete team of 12 employees. Our main business are HGV transports in Scandinavia and Germany, but we also carry out orders throughout the world. Our strengths mainly lie in groupage and part loads as well as oversized freight.
TimoCom:
You are one of the few Danish women inventors and co-founders of the Danish Inventor Association. Why now the transport industry?
Vivi:
Cargo 2000 A/S is a company with very experienced and competent employees who know the transport industry inside out. An external point of view can bring new stimuli. For this reason, I was firstly employed as a consultant and later joined the Management Board. Since I already had years of experience in management positions in different industries such as the forging and craft industry, among others, we soon agreed that I should take over the management. I mainly take care of the modernisation of the company and process optimisation. 
TimoCom:
What do you find particularly challenging or interesting?
Vivi:
At the beginning, it was of course a challenge to work in an industry in which I had little experience. At the same time, it is a very interesting industry which offers a lot of opportunities for innovation. At Cargo 2000 A/S we currently have many ideas in mind that would certainly change some things if they were developed - it will most certainly not be boring in the future. 
TimoCom:
What is the biggest challenge at the moment for Cargo 2000 A/S?
Vivi:
Competitiveness is surely one of the biggest challenges, now and in the future. For middle-sized companies like us this is not new. In direct price comparison with the big ones, we come off second best. It is therefore more important for middle-sized companies to offer special services, which the customers value.  This is the only way a company can maintain a customer's loyalty and secure their own profitability.
TimoCom:
What do you mean by special services?
Vivi:
One of our most experienced employees, Niels Tibergaard, summarised this issue very well in an article on our website last year. First of all, we have established good business relationships over many years. These enable us to carry out orders more efficiently, which is especially beneficial to our customers. Another advantage is that we contract Danish HGV drivers, making communication between the driver and customers much easier. The most important service by far is the diligent work of our employees with customers. We do not just process orders, we take care of them. Our customers can tell you the difference.
TimoCom:
Everybody is speaking today about digitalisation. What is your opinion on this matter?
Vivi:
Of course we follow digital development within the industry, but we do not invest rashly in things that may not create added value for our customers. We still do not use track&trace, for example.
The reason for this lies in the way we handle our orders, as mentioned before. The customer has a fixed contact person in our company. It does not matter whether the query is about an invoice, a complaint or the current location of a transport, this employee always knows where the customer's goods are and which driver is responsible.
Upon request, the employee can always give the customer exact information and an appreciated dialogue begins. Such a close support cannot be given with a track&trace number. To cut a long story short, at the moment digitalisation should be done for the customers and their benefits.
TimoCom:
Another challenge for many is to deal with the consequences of globalisation. Cabotage and foreign workers are the focus of many discussions. What is your opinion concerning this topic? 
Vivi:
Instead of seeing globalisation as a problem, we should focus on the possibilities it brings. The driver's nationality does not interest us in the least.
It is very important to us that we have experienced drivers who speak the language of our customers and whom we can trust. After all, they are part of the overall service we offer. When a customer can communicate easily with a driver, they have a more positive experience concerning our cooperation. 
TimoCom:
Thank you very much for this interview. We look forward to hear more about you and Cargo 2000 A/S in the future.
Download press release