TimoCom visits the happiest people in the world
The freight exchange provider exhibits at Transport 2015 in Herning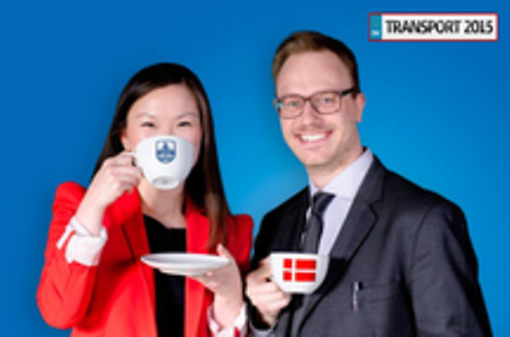 06.03.2015 - It has been a while since TimoCom was a guest at a Danish trade fair. This is changing this year because after eight years the company, with headquarters in Erkrath, will be exhibiting at Transport 2015 in Herning. Trade fair visitors can find the market leader among the European freight and vehicle exchanges from the 19th March 2015 to the 22nd March 2015 in hall J2 stand 7210.
They say: the Danes are the happiest people in the world. This appears to be true. When you look at Maria Toft Madsen and Casper Simonsen's faces, you see two jolly people. And that has its reason: both are very happy to be at Transport 2015 in Herning. "We are excited about seeing the people we only know by phone and look forward to meeting new faces and interesting conversations. This trade fair is quite special for me and I am proud to be able to present TimoCom - Herning is my hometown", explains Maria Toft Madsen.

Two-time award winner
One of the highlights the IT company is taking to Denmark is TC eMap® - the first tracking solution connected to a TimoCom platform which after only six months received two awards.  With this innovative product, all conventional telematics systems - in the meantime 120 - are displayed in a single platform. Complicated switching between different applications and protracted telephone calls are a thing of the past. Advice from the experts of the telematics provider TomTom is around the corner for those customers who are interested in this solution, but do not have the right equipment yet.  TimoCom also has its other two products with it: at the IT company's stand, visitors can get a clear picture of the market leading freight and vehicle exchange TC Truck&Cargo® and the tendering platform TC eBid®. "All those interested are more than welcome to visit us at our stand and check out our programmes live.  We can chat about correct handling over a nice cup of coffee", says Casper Simonsen.
It is hard to make the happiest people in the world even happier, but with TimoCom's efficient products they will have more time and can continue to be just as happy.
Download press release