TIMOCOM at the transport logistic 2019 in Munich
Europe's first Smart Logistics System introduces new highlights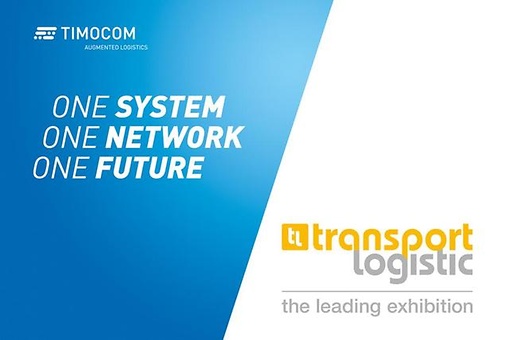 Erkrath, Germany, 2019-05-08 – everyone who is anyone in logistics will be at the transport logistic 2019 from 4th to 7th of June, so of course TIMOCOM will be on site in Munich, with their slogan for this year's trade fair: "One system. One network. One future." Visitors to the world's leading trade fair can visit stand 317/418 in Hall A5 to experience the tailored system start page, the latest smart app functions and a bidirectional transport order interface.
"One system. One network. One future."

The transport logistic will be host to a world premier. TIMOCOM will use the opportunity to present, in an exclusive preview, their entirely revamped system start page, along with other innovations. What does that mean for over 130,000 TIMOCOM users? They will have access to an intuitive, structured presentation of exactly those system smart apps they need for their transport processes.
In conjunction with the trade fair, TIMOCOM is also expanding their quote request smart app to allow transport customers to define consecutive groups of recipients. These groups then automatically receive the request in consecutive order, starting with the smallest circle (preferred service providers) and ending with the largest (all service providers within the system). This saves time and significantly speeds up daily processes.
What is true for digitalisation is true for European logistics: interfaces are key. Which is why TIMOCOM is working together with notable partners such as Cargoclix and Krone Telematics to improve the smart APIs tracking and freight exchange with the goal of improving efficiency for logistic processes across Europe. This benefits both the interface partners and their customers, for example by allowing them to make use of GPS data or actively propose offers.
The trade fair highlights would not be complete without the bidirectional smart API transport order interface, which transport customers can use to reach more than 43,000 potential business partners. And they can do it using the familiar interface from their own logistics software, which is connected to the Smart Logistics System. With this innovation, TIMOCOM was able to find five interface partners, the companies Doll + Leiber, Lavid Software, Transdata, C-Informationssysteme and Logistiqo. These companies are excited by the added value and are already in the implementation phase. 
It was only September of last year that the IT company from Erkrath near Düsseldorf announced their new strategic plans as part of the IAA Commercial Vehicles 2018 trade fair. Now, they are ready to start the next exciting chapter for the Smart Logistics System, full of new opportunities. "We are particularly excited about the transport logistic in Munich this year. We are certain that our newly developed apps and interfaces are an important step forward towards Augmented Logistics," says TIMOCOM company spokesman Gunnar Gburek.
Download press release