TIMOCOM transport barometer: good start to the year with values exceeding pre-crisis levels
The first quarter of 2021 surpasses the same quarter in the previous year, with an increase of 58 percent – 10 million more freight entries than in 2020 – potential capacity bottlenecks after Suez Canal accident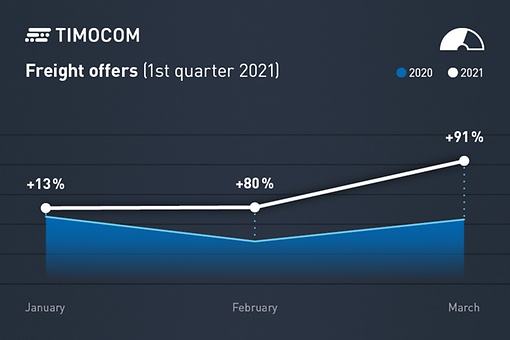 Reason for optimism in the first quarter of 2021. After a slow start, TIMOCOM's transport barometer, calculated using freight entries from 46 European countries, showed a 58 percent rise in freight as compared to the previous year. There were over 10 million more freight entries across the quarter than there were during the same time period in 2020. 
A Good Start 
The year began with a drop in freight typical for the season, with January 2021 seeing 16% less freight than December 2020. As compared to the same month in the previous year, however, there was an increase of almost 1 million freight entries – and that's compared to a time before the corona pandemic had any effect on the economy and before it had caused a European-wide lockdown. The difference between the two years was even larger in February 2021, which had over 3 million more freight entries than the same month in 2020. The final month of the quarter, March, had almost 6 million more freight entries than March of 2020. The percentage difference between the first quarters of 2020 and 2021 looks as follows: January 13 %, February 80 % and March 91% more freight offers. Overall, the first quarter of 2021 was 58 percent stronger than the same quarter in 2020.
It must be said, however, that March last year marked a turning point due to the European-wide lockdown, which essentially caused production to come to a halt and – with the exception of food retail – resulted in a slump in delivery volumes. If we compare the number of freight entries in March 2021 to those in March 2019, that is if we use a comparison month without a major crisis, we still see an above average rise in freight entries in March 2021, at 138 percent. That means the number of entries has not just recovered from fluctuations caused by the crisis, it has risen above pre-crisis levels.
Strong numbers for domestic transports in Germany, Poland and France
There were positive developments on the German domestic market in the first quarter of 2021 as compared to 2020: January 5 %, February 104 % and March 114 % more freight offers in 2021. German domestic developments from the beginning of the year thus reflect those across Europe. January started with a slight rise in freight entries, which then rose rapidly in February and continued at high levels in March 2021. This trend leaves room for optimism that the year's second quarter will also be strong, provided there are no further strict lockdowns that affect manufacturing companies.
Polish road transport shows a similar trend. When compared to values from 2020, there was a rapid rise in freight entries on the Polish domestic market across all three months: January 50 %, February 80 % and March 146 % more freight offers in 2021. It may be a sign that economic growth in Poland is speeding up once more. According to the Central Statistical Office of Poland, GUS, the country made it through the 2020 crisis with a comparably mild 2.8 percent decline in GDP. Taking that into account, and combined with the clear recovery displayed during the first quarter of this year, the trend may continue into the second quarter.
The French domestic market was also subject to a significant upward trend. The year began with a drop of 11 percent for freight transported within France as compared to the previous year. But there was a significant improvement in February, at 35 percent. Finally, the quarter ended with a clear plus of 94 percent more freight entries as compared to March 2020.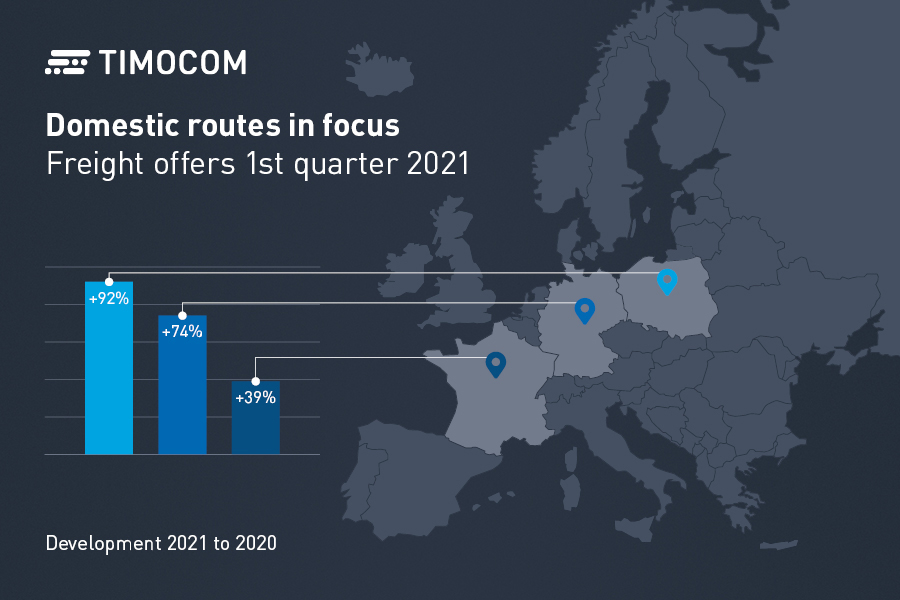 Vehicle space shortage will worsen
There has been a noticeable drop in available vehicle space in the first quarter of 2021. Numbers range from -3 to -25 percent. This negative trend is the result of the high demand for goods transport. And the Suez Canal accident caused by the Ever Given could make things worse. If there are no further strict lockdowns the need for road transport will increase, leading to further vehicle space shortages. "It is impossible to transport the amount of goods now heading for shore in a short period of time. And on-carriage vehicle space is limited. Over the next few weeks, we will see a significant decrease in transport capacity availability for inland transports in Europe," according to Gunnar Gburek, Company Spokesman at TIMOCOM, analysing the effect of the accident. 
The FreightTech company TIMOCOM has been using the transport barometer since 2009 to analyse the development of transport offers and demand across 46 European countries as recorded by the freight exchange, which is integrated into the Smart Logistics System. More than 135,000 users generate up to 800,000 international freight and vehicle space offers daily. The System helps over 45,000 TIMOCOM customers to meet their logistics goals smartly, safely and simply.
Download press release