TimoCom transport barometer: Vehicle shortage continues to worsen
Freight numbers in Europe continue to be higher than average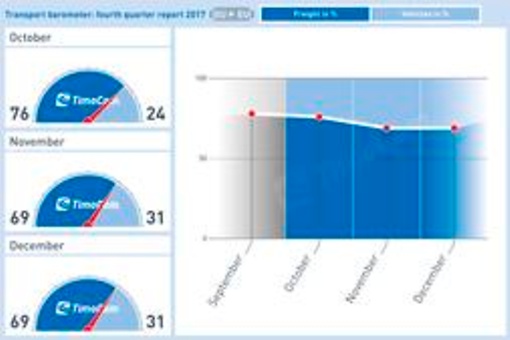 Erkrath, Germany, 2018-01-23 – Free vehicle capacity is getting scarcer in Europe, according to TimoCom's Transport Barometer. In the 4th quarter of 2017, Europe's largest transport platform had only 29 vehicle offers to fulfil 71 transport orders.
On average, in 2017, the TimoCom Transport Barometer showed a freight to vehicle ratio of 70:30 within Europe. In September 2017, an all-time high of 78 percent was calculated for freight. That means: an ever-growing number of goods that need to be transported from A to B have fewer and fewer trucks available to transport them.
"The purchasing behaviour on the European transport market has changed noticeably within a very short time period. It used to the be the case, that customers had their pick of transport partners, but these days it is the transport supplier who selects the freight that matches their capacity, all in real time. The search has definitely changed sides", says TimoCom Company Spokesman Gunnar Gburek, reflecting on the unequal distribution in 2017.
The freight to vehicle ratio last year was significantly more balanced based on the search behaviour displayed on the European transport market during that time period: With a ratio of 53:47, the TimoCom Transport Barometer showed only a marginal freight surplus in the 4th quarter of 2016.
What is the cause of this development?
The persistently good economy. The German economy is going full speed ahead. The Economic Barometer published by the German Institute for Economic Research (DIW Berlin), shows a value of 109.4 points for the 4th quarter of 2017, which is above average growth for the gross domestic product. The result: significant increases in goods to be transported. 
Decreasing numbers of HGV drivers. According to information from the German Carriage and Logistic Union (Deutschen Speditions- und Logistikverbandes - DSLV), there is a deficit of at least 45,000 HGV drivers in Germany right now. And there are fewer people joining the profession, as the job is not very attractive. Now that service in the German Army is no longer mandatory, it has stopped serving as the largest training institution for vehicle operators, with the result, even years later, that available vehicle space is limited. 
New weekly rest periods. As of the middle of last year, HGV drivers in Germany are no longer allowed to take their regular weekly rest period in their vehicle; instead, they must be in another location with a suitable sleeping spot. This costs valuable time and therefore reduces the availability of the existing transport capacity. 
Gburek, however, also notes the positive effects of this development: "It is a good time to be a road haulier. The job will gain prestige and salaries will rise. Drivers will once again be seen as indispensable partners in a supply chain that guarantees prosperity and economic power within our country. 
Even as we speak, independent haulage contractors can select their customers and ensure they take on the most lucrative jobs. This will create a new balance of power on the market: Gburek is convinced that hauliers will be able to free themselves from dependencies and offer their services directly to the market, or with the help of freight exchanges. In the end, the entire industry will profit: "Transport is going to become much more attractive."
Download press release