TimoCom's freight exchange awarded
TC Truck&Cargo® receives BME seal of approval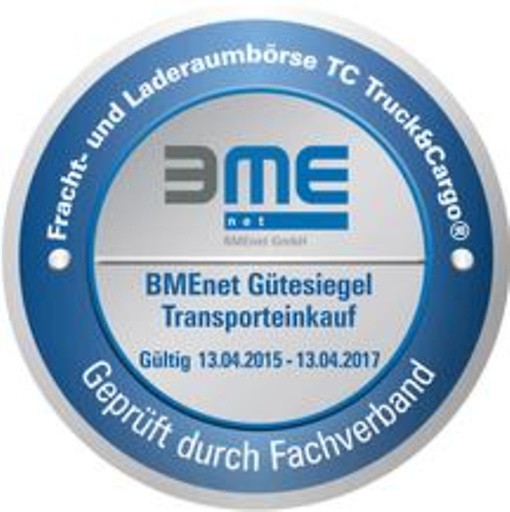 Erkrath, 12.06.2015 - Europe's leading freight and vehicle exchange TC Truck&Cargo® by TimoCom has been awarded the BME seal of approval for "transport procurement". This is the second TimoCom product certified by BMEnet GmbH, a subsidiary of the BME (Bundesverband Materialwirtschaft, Einkauf und Logistik e.V. - Association Materials Management, Purchasing and Logistics - AMMPL).

"We are particularly happy about the BME certification as it shows that TimoCom's freight and vehicle exchange TC Truck&Cargo® offers not only a diverse range of products but also a high standard of quality. This is a combination that is unique on the market when it comes to transport platforms," says TimoCom's Chief Representative Marcel Frings. As the spot market platform has been made available to manufacturing and trade customers from all over Europe a while ago, TC Truck&Cargo® was checked by the awarding BMEnet GmbH against an objective and standardised set of criteria.
The result is: According to the report by BMEnet GmbH, "the freight and vehicle exchange TC Truck&Cargo® gives transport service providers and clients additional business opportunities and helps optimise capacity utilisation through transport procurement. This helps avoiding expensive empty runs, which is also good for the environment. Furthermore, TC Truck&Cargo® offers further extras and clever additional features that make day-to-day work easier for TimoCom customers."
In plain text this means: If shipping companies are looking for an efficient software system for their logistics, they will find a quality-tested and market-transparent provider in TimoCom.

TimoCom's double certification
With the certification of TC Truck&Cargo®, TimoCom Soft- und Hardware GmbH has now been certified twice in the field of "Software and Platforms". Previously, it was TC eBid®, the online platform for Europe-wide transport tenders, that was tested. It was awarded the BME seal of approval for "freight procurement" in 2010. In this case, BME also points out its high efficiency, user-friendliness and an improvement in market transparency.

BMEnet seal of approval: Certified quality standards
The BMEnet GmbH seal of approval is awarded to integrative software and platform solutions that optimise procurement and logistics. The assessment is based on a standard and neutral list of criteria with clearly defined requisites. Against this background, the market is made more transparent when it comes to choosing the right software system. Users receive the certainty of obtaining software with proven quality standards. Certified providers, on the other hand, have solid proof for the quality of their products.
Download press release