TimoCom Live Talk: 5 facts about Girteka Logistics
Europe's largest FTL company, Girteka Logistics, in a TimoCom LiveTalk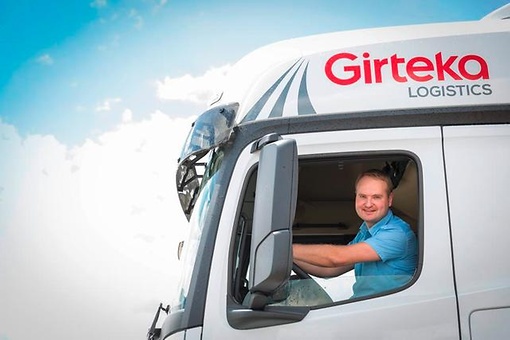 Erkrath, Germany, 2018-07-26 – there was red-hot interest in advance of the TimoCom Live Talk with Europe's leading company for full loads in the temperature controlled sector. Girteka Logistics from Lithuania. More than 13,000 Facebook users took a look at the video-teaser for the interview. Comments on Facebook included speculation on bad payment and long working hours for drivers. The event, which took place on 12 June in the TimoCom headquarters, was attended by Kristian Kaas Mortensen, Chief Communications Officer, and Elena Kazinec, Key Account Manager; they reacted in real time to the questions and comments made by the Facebook community. 
1. Girteka Logistics' market share is comparatively low, despite consolidation
Girteka Logistics works with major multinational customers that order transport to a value of 50-100 or even 200 million Euro per year. If, for example, around 100 forwarding companies worked for these major customers just a few years ago, the number has now dropped to 50, and will likely be only 25 in just a few years. This means that, as they consolidate, Girteka Logistics' order volume continues to grow. The road transport market is very fragmented. Many small and mid-sized transport companies make up the majority of the market; despite consolidation, the company has a comparatively small market share.
2. Girteka employs 8,500 permanent drivers with around 20 percent fluctuation
"We do not pay our drivers any more or less than other companies do: if we pay them less, we lose drivers. If we pay them more, we become less competitive," clarifies Kristian Kaas Mortensen, member of the Executive Board at Girteka Logistics. According to Mortensen, Girteka drivers have access to the latest in technology and vehicles and are specially trained at a company-owned driving school. Even drivers with previous experience are required to attend, to learn about the GPS systems, digital driving apps or environmentally friendly driving techniques. This is designed to reduce the error rate for refrigerated transports, and simultaneously improve quality.
3. The fleet consists of 5,000 trucks and started with a single used MAN truck
"Most transport companies are run by the owner. However, if all company activities are decided on by a single person, the company is limited to that person's time constraints and competence", explains Mortensen. Which is why Girteka Logistics decided, ten years ago, to establish a multi-national company structure. Problems are dealt with directly in daily Lean Meetings and then communicated to departments, sectors and individual teams.. One example for a Lean Meeting topic is difficulties with intermodal connections in France. "We were unable to implement intermodal transport in France as planned, because of strikes. So we had to switch to road transport. By 10:15 a.m. the entire company knew what was happening and everyone knew what measures had to be taken," Mortensen reported. This organisation made it possible for Girteka Logistics to grow the business to include 5,000 vehicles within just a few years - and the growth continues. And it all started with one single used MAN truck.
4. Over 50 percent of the vehicles have two drivers

The core business of the transport company, with its headquarters in Vilnius, is international transport of full loads. In other words: long distance haulage with frozen freight such as salmon or fresh fruit on route, for example, from Scandinavia to southern Europe. "Our transports are very demanding. They are express freights, which means of course that they have to be carried out faster than normal orders. Which is why we use two drivers for more than 50 percent of all orders, and make sure that our employees are on the road with colleagues they enjoy working with," says Mortensen. Often, the two people in the cab are father and son, siblings, married couples or two friends.
5. Digital processes improve quality
Maintaining the refrigerated chain is a particularly important task for the company, which specialises in refrigerated goods. This means, among other things, that more than 8,500 truck drivers also require training on how to use the refrigeration units. Initially, a lot of time and money was invested to train every truck driver using an e-learning tool. This technology significantly reduced the rate of errors, and sped up Girteka's market growth. Now, the refrigeration units are controlled directly from the company's offices. In addition, every truck driver has a tablet and access to the necessary apps.
Download press release