The ratings feature is here!
FreightTech Company TIMOCOM introduces 5-star rating feature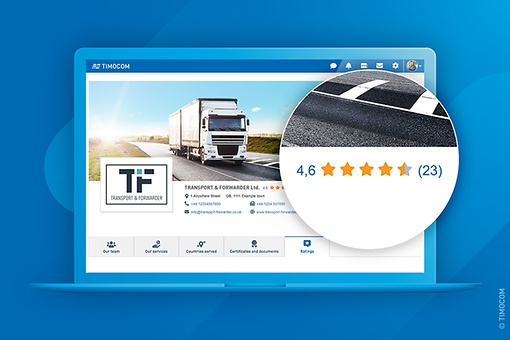 Starting immediately, TIMOCOM's Smart Logistics System is introducing a new ratings feature, allowing business partners to rate their cooperation with one another. Many customers have requested this feature, which adds additional value to the IT company's Smart Logistics System. "In our private lives we almost never make a purchase without first checking what other customers thought of the item. Starting now, our customers have the same option when selecting a business partner – they can take what third parties thought into consideration," according to Gunnar Gburek, Head of Business Affairs TIMOCOM.
Fair and honest ratings are essential if this feature is going to add value to the TIMOCOM transport network. The new ratings feature is therefore connected to the transport orders application, meaning only companies that have actually worked on a transport order together can rate one another. Gburek: "Connecting the ratings feature to transport orders means that only those users that work or have worked together can rate one another." Transport customers can rate the communication between business partners, whether the service provider arrived on time to load and unload the goods and how goods and documentation were handled. Service providers can also rate communication, along with whether or not the contractual conditions were fair and whether payment was prompt.
Longer payment terms require longer feedback windows
Every user can leave a rating for their business partner provided they have processed an order with that business partner in the transport orders application. The feature is available immediately once the transport comes to an end, that is once the goods have been unloaded. But business partners have up to 104 days after the goods are unloaded to rate each other. "Because payment terms in the logistics industry are long, we want to give our customers a lot of time to leave feedback," Gburek explains. "After all, the circumstances surrounding the payment of an invoice are very important for transport service providers."
Now System users can receive ratings from business partners that confirm they provide reliable, quality services. And those searching for new business partners can make decisions based on what other companies thought of the service. "We are looking forward to seeing how our customers like the new feature," said Gburek.
Download press release