Secure cash flow: JITpay™ factoring service for TIMOCOM customers
Receipt of payment within 24 hours - protection against payment defaults - available as of today for TIMOCOM customers in Germany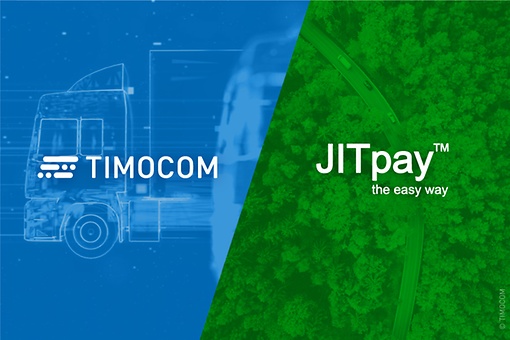 An important requirement for every company is liquidity. However, with long payment terms of up to 60 days, things can get tight. To help customers get paid quickly, TIMOCOM and the factoring service provider JITpay™ as of today offer the possibility to process payments using JITpay™. The digital payment service is available for TIMOCOM customers in Germany and will be offered in other European countries during the course of the year. The Netherlands, Poland, Slovakia, Slovenia and the Czech Republic will be next.
Smart: This is how the JITpay™ factoring service works
In order to use the service, German TIMOCOM customers simply need to register on the JITpay™ website. In TIMOCOM's Smart Logistics System, customers can access JITpay™'s invoice centre, where they can upload their receipt of delivery after completing an order. Invoicing then takes place digitally and automatically. For a small service fee, the money is transferred to the customer's account within 24 hours.
Secure: You can finally count on payments
Especially in unstable times, long payment terms present great challenges for logistics companies, with the added burden of not knowing whether invoices will be paid at all. This is where the cooperation between TIMOCOM and JITpay™ provides a long-term solution. JITpay™ offers 100 per cent protection against defaults in payments and guarantees fast cash flow – even with long payment terms.
Simple: Big benefit with little effort
No dunning, no long waiting for payments: JITpay™ assumes both the risk and the accounts receivables management. Factoring thus relieves small and medium sized companies in particular of this task and is easy to use. Customers only have to register once and upload the receipts of delivery, and the rest is done for them entirely digitally. 
"We are looking forward to working with TIMOCOM to improve transport industry processes. Payment processing and financing in logistics will increasingly take on a key role. Together with TIMOCOM, we can create significant added value for the market in this area," says Dr Daniel Steinke, Managing Director of JITpay™.
"The cooperation with JITpay™ is another important improvement in the services we offer," states Gunnar Gburek, Company Spokesman and Head of Business Affairs at TIMOCOM. "With this digital payment service, we help our customers solve one of their most crucial challenges: fast payment after the service has been completed."
Download press release