Digitalisation of logistics in full momentum
TIMOCOM announces significant customer growth. More than 50,000 customers use the FreightTech company's Smart Logistics System.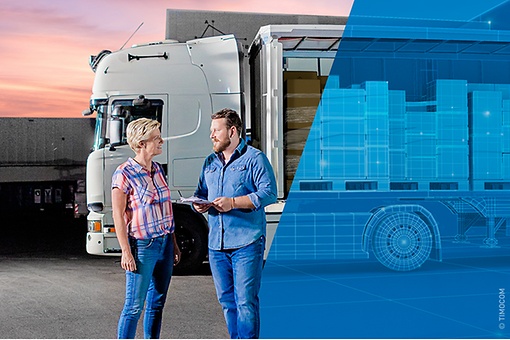 FreightTech companies offer logistics professionals digital support in managing logistics processes. And this is exactly what TIMOCOM's Smart Logistics System does. It accompanies customers from the start of a transaction to the processing of payment. An increasing number of market participants are using this service. The IT company has recently broken the 50,000 customer mark and is pleased about the sustained trust within the logistics industry. "This is a milestone in our company's history and an important step towards our vision of a world without logistical challenges," says Tim Thiermann, Managing Partner at TIMOCOM.
"The willingness to digitalise has increased considerably due to the exceptional conditions of the last two years. This is also reflected in our customer growth," adds Tim Thiermann. "Providing customers with a reliable platform on which they can find new business partners and simplify their work processes has been and will continue to be our commitment". The fact that FreightTech is booming is not only evident when looking at TIMOCOM's business figures. The Fraunhofer Center for Applied Research on Supply Chain Services SCS has identified that a large number of the 350 logistics start-ups that now offer their services in German-speaking countries provide technology or services that support logistics services.
Transport market remains tense
TIMOCOM's Smart Logistics System offers logistics professionals digital support in managing logistics processes – from the start of a transaction to the processing of payment. Up to 800,000 freight and vehicle space offers are posted daily by more than 135,000 users on the freight exchange. In 2021, the System was often searching for suitable vehicle space for more than 1 million international freight offers per day. In addition, more than 175,000 trucks were tracked via the System during the year and almost 37 million routes were calculated.
Logistics is gaining in importance, which is also in part due to the recently tense situation on the transport market. " Both the driver shortage and scarce transport capacity will continue to preoccupy the global economy in the coming year," says Gunnar Gburek, Head of Business Affairs. That is why TIMOCOM offers simple and flexible solutions to counteract transport and delivery bottlenecks in road freight transport.
Download press release