TimoCom at home in Denmark
"Transport 2015" in Herning has record-breaking visitor numbers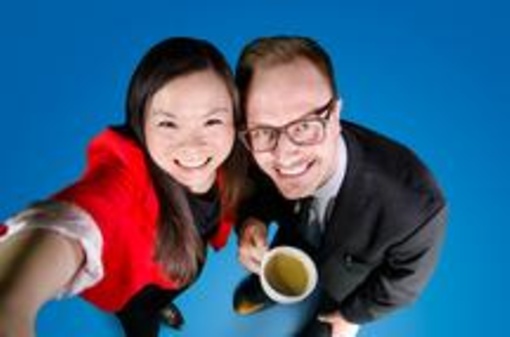 Erkrath, 2015-05-04 - Danish TimoCom customers had to wait for eight years. That was when Europe's biggest transport platform last had a stand at a exhibition in Denmark. This year the company presented its products at "Transport 2015" in Herning, which was a very special event and for one TimoCom employee it was particularly special.
"The Danish like an informal, familiar atmosphere, which is why I was so much looking forward to working in Herning - it's my home town," says TimoCom Country Manager Northern Europe, Maria Toft Madsen, about coming home. Of course, she felt very much at home in the city itself and at the TimoCom stand. There she saw some familiar and also many new faces: "We are very happy with the way the fair in Herning went. Our stand was very busy and we had many interesting conversations. Some of the customers we had only talked to on the phone before, so this was an opportunity to finally meet in person," Toft Madsen sums up. One of those customers was Head of Sales at Contino Transport A/S, Peter Frost Rasmussen, from Padborg: "We have been TimoCom customers since 2003 and we were very happy to finally get to meet the Danish Account Manager, Casper Simonsen."
Record-breaking visitor numbers show trade fair success
Not just for TimoCom the trade fair "Transport 2015" was a success. Scandinavia's largest indoor trade fair had about 25% more visitors than in 2013. Many of the visitors brought their families to the event to stroll the nine exhibition halls together. The employees at the TimoCom stand were well-prepared for the "happiest people in the world". Over a nice cup of coffee, the visitors could get information on all the products.
They were particularly interested in TC eMap®, the first tracking solution connected to a TimoCom platform. With this innovative product over 120 telematics systems can be displayed in just one platform, and the numbers are increasing. No more cumbersome switching back and forth between different telematics programmes and no more lengthy phone calls. Dispatcher Max Hemmingsen of Thurah Transport A/S from Ishøj confirms, "We are using TimoCom's complete range of products but ever since TC eMap® has become the universal tracking solution, it has become particularly convenient. It makes work so much easier if you can quickly and easily look up your vehicles' or goods' locations in TC eMap® when you receive a customer request." That saves time. Time that the Danish will probably spend with their families.
Download press release