TimoCom App now available in TomTom Bridge devices
Lorry drivers can log in to Europe's largest transport platform directly from TomTom Bridge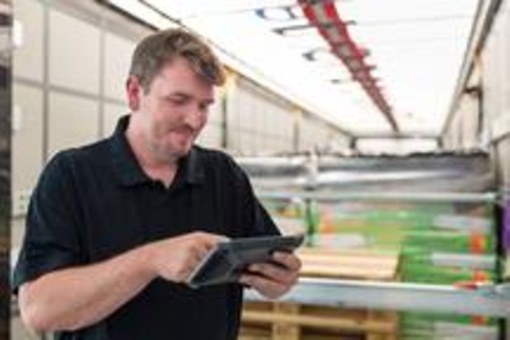 Erkrath, Germany, 2017-08-10 - As of June, the TimoCom app is included as a standard, out of the box feature on TomTom Bridge, the professional driver's terminal from the navigation system manufacturer TomTom. HGV drivers who are TimoCom customers can log into the TimoCom platform directly from their TomTom Bridge device — finding the right load or offering free storage whilst on the go.
Transport platform on board
Anyone who travels often for work knows how difficult it is to be unable to manage and complete processes correctly. This is particularly true for lorry drivers, who spend a large part of their professional life on the go. TomTom Bridge, a professional driver terminal, provides an essential connection between driver and office, as well as driver and customer. In addition to TomTom truck navigation and real-time traffic information on all routes, the devices, based on the Android platform, also contain mobile business apps. One of these is TimoCom, Europe's largest transport platform. This allows users to change their plans as required: find load offers across Europe whilst on the go, or put your free storage room on the transport platform — quickly and easily. The integrated app is particularly practical for self-employed drivers, allowing them to find return or additional loads at any time. "It saves a lot of time for TimoCom users. The drivers do not have to access their private smartphone to check freight offers — and TomTom Bridge provides both navigation and the TimoCom app, as well as all other applications in one simple device", explains Andrea Di Domizio, Solutions Manager at TimoCom.
TomTom Bridge – the perfect combination of navigation and business application
According to Klaus Burgstaller, TomTom Bridge Senior Sales DACH & EE, inclusion of the TimoCom app makes the TomTom Bridge hardware even more valuable: "TomTom Bridge driver terminals offer much more than simple navigation and maps. Thanks to integrated applications such as the storage entry and freight search from TimoCom, our customer's work day is easier, and much better suited to their needs. Which is precisely our mission: working together to develop technologies from which everyone benefits." 
Starting at the beginning of July, 2017, TimoCom transport platform users will also be able to manage offers via mobile access: the new TC Transport Order®  application digitalises transport offers and allows business partners to come to an agreement within the TimoCom platform itself. This further simplifies communication and networking for both carriers and shippers.
Download press release