25 Years Freight Exchange: TIMOCOM has had a lasting influence on European road freight transport
The successful European business story of an IT start-up from Germany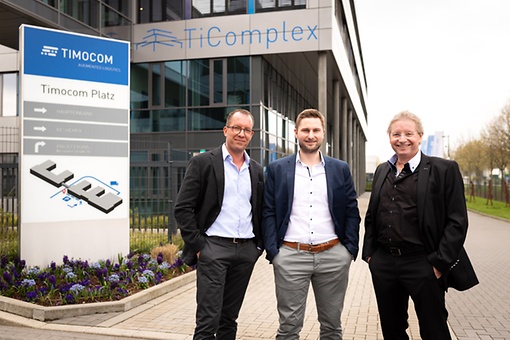 The story of TIMOCOM began early in the morning in the car park of a German discount supermarket in Düsseldorf. That week in 1997, desktop PCs were on sale and freight forwarder Jens Thiermann could make good use of them for his planned IT start-up. His goal was to develop a Europe-wide procurement platform for transport orders, with which freight forwarders and hauliers can find freight at short notice, reduce the number of empty kilometres and thus achieve better utilisation of their vehicles. 
"It all started when I was looking for a pan-European procurement platform for transport orders in order to reduce the empty runs of my freight forwarding company. But I didn't find one that met my requirements," says Thiermann. Together with business partners, Thiermann spent months developing a software for his own freight exchange. And finally the moment arrived: The founder of Timocom Soft- und Hardware GmbH pressed the start button and watched as the recently launched freight and vehicle exchange Truck & Cargo was filled with offers. 
Now the challenge was to expand the new freight exchange's network and give logistics the necessary tools for digitalisation because even modems were still an uncharted territory at that time. "It was a feeling of absolute joy, relief and at the same time the announcement of great responsibility –  even back then when we had no idea how everything would develop," recalls Jens Thiermann when he thinks back on it today. 
Measurable advantages boost the freight exchange
The freight exchange was what road freight transport in Europe had been waiting for since the invention of the fax. It brought specific advantages. Wilhelm Dallmann, who with Dallmaco Speditionsges. mbH has been a customer from the very beginning, says that his company owes time savings of 80 per cent when it comes to processes to TIMOCOM's applications. After only a few years, the young company TIMOCOM opened locations in Poland, the Czech Republic and Hungary to better serve the core markets of Eastern Europe and exceeded the 10,000 customer mark. 
Today, the company has more than 50,000 customers with over 147,000 System users in 46 European countries. Every year, they carry out an incredible 1.5 billion freight searches in the System. And TIMOCOM has long since moved beyond just business initiation and is working on the digitalisation of the entire transport process.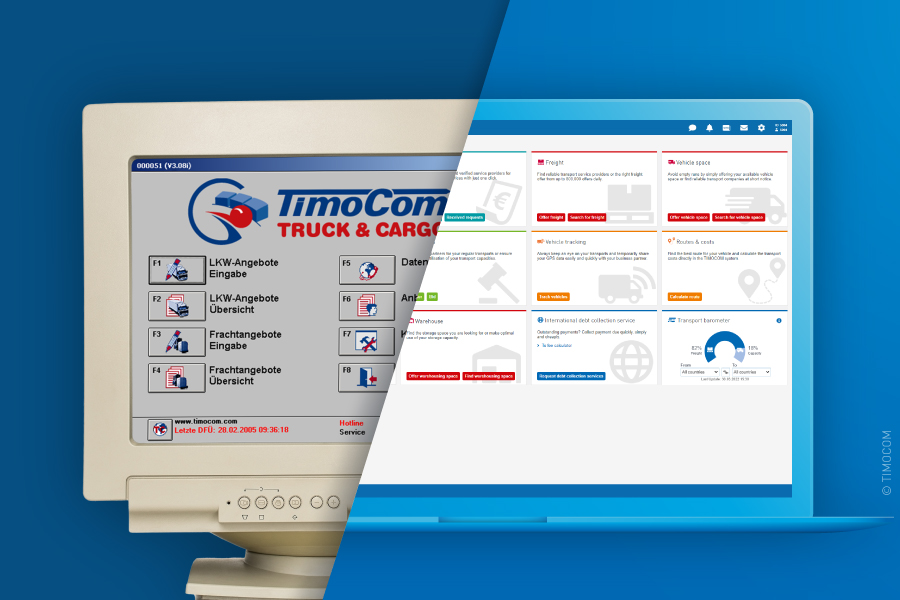 TIMOCOM's freight exchange at its market launch in 1997 (left) and the resulting Smart Logistics System today. © TIMOCOM
"Our vision is a world without logistical challenges," says Tim Thiermann. The eldest son of the founder took over the management together with Sebastian Lehnen in 2019, meaning that the IT company is now being run by the second generation. And the new corporate leaders have set themselves the goal of not only continuing the family business and the freight exchange, but to make it the largest and most secure marketplace in the FreightTech sector. "We plan to invest around 100 million euro in research and development by 2030," says Thiermann.
20 per cent CO2 savings thanks to digital applications
One area of investment is sustainability, which has gained importance in all areas in recent years. Digital applications and freight exchanges play a significant role in reducing CO2 emissions in logistics. According to a study, more than 20 per cent of CO2 emissions per driven kilometre can be saved by using TIMOCOM's applications – while at the same time increasing the utilisation of the vehicle fleet by 30 per cent.
Soon TIMOCOM customers will be able to calculate their own carbon footprint via the marketplace. "Together with a young innovative company, we support our customers in making their fleet's CO2 savings visible," says Tim Thiermann.
The potential in road freight transport is enormous. After all, the transport sector is the largest CO2 emitter in Europe and a quarter of this is attributable to road freight transport. It is also the case that every fifth truck runs empty. Thus, the need for efficient use of resources is as relevant today as it was in 1997.
Download press release