The transport barometer: So far, the trade dispute with the USA has had no effect on the EU transport market
Demand for vehicle space remains constant and high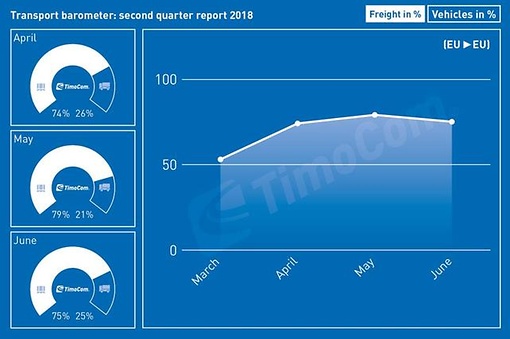 Erkrath, Germany, 2018-07-20 – The trade dispute with the USA has not had an effect on the work load of transport companies in Europe so far. Although the EU Commission has lowered their growth estimate to 2.1 percent due to the customs dispute (May estimate: 2.3%), the demand for vehicle space has remained consistently high one month after the introduction of punitive tariffs by the US. This is clear from the TimoCom transport barometer, the industry indicator for road transport developments within Europe.
Strong economic conditions create a surplus of freight offers
"There hasn't been any panic, the market seems fine," commented Gunnar Gburek, Company Spokesman at TimoCom, referring to current numbers for the second quarter of 2018. The continuing strong economic position of companies in Germany and the Eurozone has led, as in the past, to a surplus of freight offers on the transport market. It appears that the US' political decision to introduce punitive tariffs to EU steel and aluminium in June has had no effect on the last four weeks of the second quarter. 
On average, from April to June, there were 76 freight offers from users of Europe's largest transport platform for every 24 vehicle offers. This matches exactly with the results from the first quarter of this year, which already showed a very high demand for vehicle space. "The graph is flattening out, developing into a simple straight line" Gburek describes the continuous development. Up to 750,000 freight and vehicle offers from across Europe are entered into TimoCom on a daily basis.


Ratio of freight to vehicle space was balanced just two years ago
Last year, the ratio of supply and demand looked similar, with a result of 70:30. Two years ago, it was a different story: in 2016, the ratio of freight offers to free vehicle space was almost balanced in the second quarter, at 52:48 percent.
Transport capacity is scarce, and likely to remain so
What do these numbers mean for manufacturing and trading companies in Europe that have to get their growing number of goods on the road in order to serve their customers? "The existing transport capacity is scarce, and likely to remain so," says Gburek. This situation can only be countered by avoiding empty runs and making the most efficient use of existing resources. "Especially in lean times, wait times and down time at manufacturing and trade loading docks must be reduced even further, via optimisation." Even if the EU Commission sees a risk of economic downturn in the event of escalation of protectionist measures by the US government, the transport market in the EU will remain marked by a surplus of demand in the coming months, the TimoCom spokesman predicts.
Download press release