The transport barometer: Demand for vehicle space in Europe remains constant and high
No 'summer break' in the third quarter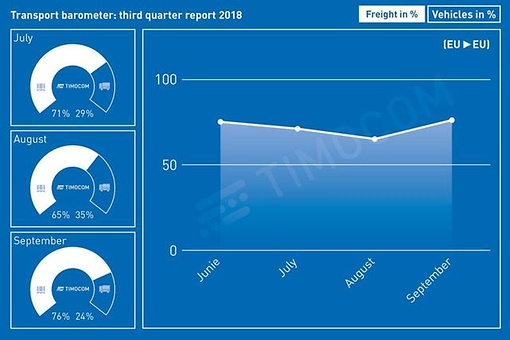 Erkrath, Germany, 2018-11-15 – the booming economy in the Eurozone ensured continuing high demand for transport capacity on the market in this year's third financial quarter. "The demand for vehicle space barely fell in the summer months," says TIMOCOM Company Spokesman Gunnar Gburek. "It remained consistently high."
On average, in the time period from July to August 2018, there were 71 freight offers compared to 29 vehicle space offers on Europe's largest transport platform, which is part of TIMOCOM's Smart Logistics System. Exactly the same results as the same period in the previous year. In contrast, at 55:45, the ratio of freight to available vehicle space in 2016 was almost balanced in the third quarter.
More than 40 million freight and vehicle offers
In total, the around 127,000 platform users entered more than 40 million (40,836,838) freight and vehicle offers across Europe onto the platform in the third quarter of 2018. The number of freight offers (33,696,838) significantly outnumbered the number of vehicle offers (7,140,018) with a ratio of 83% to 17%.
"We didn't see a summer break this year either," said Gburek about the numbers. In the coming weeks, a seasonal increase in demand for transport capacity can be expected. The busy season has already begun for the logistics industry.
Lack of HGV drivers the main reason for delivery bottle-necks
The main cause of delivery bottle-necks during the boom: not enough HGV drivers. In order to create vehicle space at short notice, existing trucks must be filled more efficiently, and empty runs avoided at all costs, according to Gburek. This would also boost productivity, prevent traffic jams on the roads and in loading docks, and therefore shorten the time drivers spend waiting around.
These numbers are based on transport barometer values from TIMOCOM's Smart Logistics System, the IT infrastructure for a digitally connected world of transport. Up to 750,000 international freight and vehicle space offers are uploaded to the system daily.
Download press release