The current topic: Cabotage
Regulated cabotage traffic can invigorate the economy and reduce the number of empty runs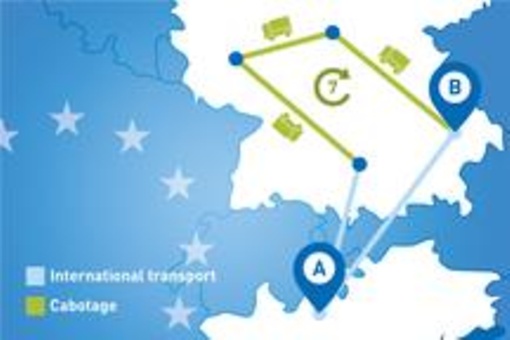 Erkrath, Germany, 2016-06-21 – It is a sensitive subject for many, and is often immediately connected to illegal activities. But in fact, transport services within a country by a foreign company, or cabotage, is a perfectly normal practice. Various interest groups treat cabotage as a controversial matter. However, legal cabotage is hardly magic.
The fact that cabotage in road transport is sensible and indeed recommendable should be obvious, at the very least since the publication of the last EU Commission study in 2014. According to the study, 25% of all HGV drivers in Europe have empty runs - and could, for example, use cabotage to avoid dead milage. There are a few challenges for transport companies to overcome, most notably a lack of contacts in various countries and a lack of clarity regarding the exact cabotage regulations. After all, there are certainly enough offers on hand, thanks to large, international transport platforms such as TimoCom, which counts up to half a million freight and vehicle offers daily.
Cabotage: beneficial to a point
At only 2.5%, cabotage makes up a very small percentage of the total road freight within the EU, but receives a lot of attention in controversial discussions. In Germany, for example, the industry often complains that there is not enough monitoring in place to stop illegal cabotage. However, this claim was refuted by Andreas Marquardt, the president of the Federal Office for Goods Transport (BAG) in an interview with the German Transport Journal (DVZ, issue 26 from April 2016). The interview mentions fines to the amount of 650,000 EUR handed out after checks in Germany for 2015 alone. According to Marquardt, cabotage clients are largely western European freight forwarders or manufacturing and trading companies, making use of vehicles belonging to foreign subsidiaries of their transport companies.  For example, in the United Kingdom in 2013, cabotage regulations were relaxed for vehicle transport in order to prevent bottlenecks.
Experience shows, however, that many transport service providers simply do not want to take on cabotage assignments, as they wish to avoid any regulation violations and the fines or complications they bring with them. It is simply not enough to understand the EU regulation 1072 from 2009 regarding cabotage. Providers must also be aware of the regulations in each individual country regarding these jobs.
Current regulations and examples
Throughout the entire European Economic Area, in accordance with EU Regulation No. 1072/2009, Article 8, Paragraph 2, the rule applies that a haulage contractor, after unloading freight during international transport, may take on three cabotage jobs in the relevant EU member state within the next seven days.
An example of cabotage in the EU: An Italian company is charged with transporting cargo from Verona to Innsbruck in Austria.  While searching for a matching return load, the transport company uses the area search function on TimoCom's transport platform to find attractive follow-up orders, for example transportation from Innsbruck to Rosenheim, from Rosenheim to Salzburg and from Salzburg to Linz.
It would also be possible to take on a single cabotage assignment in a transit country instead of taking on three within the country in which the initial goods were unloaded. An example: A driver from Italy takes on an international transportation job, from Italy to Hungary. Afterwards, he accepts a cabotage assignment in Austria, from Graz to Vienna. The return load from Vienna to Venice is then considered normal international goods transportation. 
Tips and recommendations
It is important that the driver always carries documentation proving that he had an international transportation job before taking on the cabotage assignment. In addition, it is important to note that a consignment note is considered proof that a single cabotage assignment is under way. This is critical, as it may very well be the case that a vehicle is transporting three separate freights to a single reception point, and each freight has its own consignment note. In this case, the limit for permitted transport services would be met, and no further cabotage assignments may be accepted. So far, so simple.
The difficulties rarely have to do with cabotage itself, but rather with regulations within each country. This applies in particular to regulations regarding the transportation contract itself, or regarding rest periods and driving times, which end up causing stress and costing poorly informed transport service providers time and nerves. In France or Belgium, for example, weekly resting periods cannot be spent in the cabin; doing so can attract fines and even imprisonment. This has the effect of making parking hard to find on the German side of the border with Belgium and France on the weekend. In addition, in Germany, Austria, Norway or (starting on 01.07) France, payment for cabotage assignments must meet minimum wage requirements.
The possibilities outweigh the risk
Complex regulations and serious punishments can hinder sensible use of transport vehicles. But both the EU and the individual countries involved should be interested in ensuring a reduction of empty runs, and therefore less unnecessary traffic and fuel consumption. In order to create better conditions for cabotage, there is a need to harmonise additional regulations, such as social legislation for personnel, vehicle taxes and more. Despite the many regulations that must be taken into account, transport business - one of the largest international industries - would be unimaginable without cabotage. In principle, transport companies should not avoid cabotage assignments, but rather research the necessary information and make use of the many business opportunities.
Download press release