The Best brand 2014 award in the category freight exchanges goes to TimoCom
Readers of the ETM publishing vote TC Truck&Cargo® as best freight exchange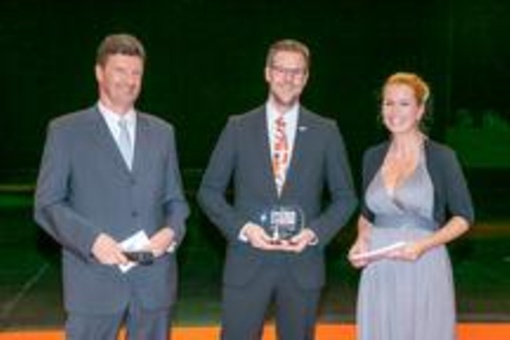 Dusseldorf, 2014-07-24. At the award ceremony in Stuttgart the 5th of June, TimoCom's Marketing Director Christof Thesinga accepted the award "Best brand" for the freight exchange TC Truck&Cargo®. Prior to the award, 7,403 readers of the specialised publisher EuroTransportMedia had voted during several weeks on the best products and services in the transport and logistics industry.
TimoCom among the industry giants
To be named "Best brand" in the same category as Mercedes, MAN or Michelin is a special honour according to TimoCom's Marketing Director Christof Thesinga: "We are an owner-managed, medium-sized company and develop, support and promote everything ourselves. To stand on the podium together with the industry giants makes us proud and acknowledges our hard work. I would like to give a big thank you to all the ETM readers and TimoCom users! Incidentally, we have already engaged work again at full speed." Thus  the freight exchange TC Truck&Cargo® is being continuously improved and enhanced with helpful functions such as the new manufacturer-independent tracking platform TC eMap®. With it over 90 different telematics systems can be displayed on one map. In addition, a mobile access should be available this year which will make the use of the programs by means of an app via smartphone and tablets possible.
Excellent product, excellent service
According to Thesinga, not only a great product makes a good brand. The company also invests in good customer care services. "Communication with the customer is the method of choice in order to assure quality. In the Customer Care department alone, TimoCom has 50 international employees available daily by phone, e-mail or Facebook. It is very important for us to be close to our customers, to be able to react to tendencies and most importantly to answer queries without big delays", summarises Thesinga.
In the future, the company would like to go one step further and with the aid of a new tool simplify communication between the users
Download press release