Small freight forwarder up front with TimoCom
Emdipa raising their stakes with Europe's largest transport platform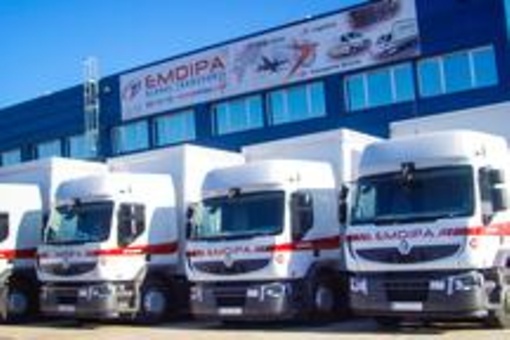 Erkrath, Germany, 2016-06-27 – When the Spanish freight forwarder Emdipa receives an order to transport doping tests as fast as possible from Spain to Switzerland, their 20 employees are not surprised. The small company is famous for carrying out unusual transport jobs at short notice, proving that you do not always have to be the largest company to find a niche and establish yourself successfully.
Good things come in small packages, ready at any time
Emdipa was founded in 1986 by MD Sergio Jiménez,and has offices in Madrid, Barcelona and Vitoria. They have their own lorries and also work together with 20 external partners. This makes it possible for them to live up to their claim: "We transport what you want, when you want it, to where you want it." This is the company's real speciality. They transport the smallest and largest loads all around the world at any time, to match their customer's needs.
Sergio Jiménez really cares about his customers, and is always working to ensure they are satisfied: "Once the customer has given us a job, they do not need to worry about anything. We adapt to meet their needs and take care of all necessary processes. If we pass on an order to subcontractors, we do a followup check once the job is done to see how it went and whether everything worked out well. We also offer a 24 hour emergency telephone service." Jiménez cares about more than just the customers, he also shows a great interest in the goods and the hauliers. "Our company philosophy is to optimise our performance, without forgetting our customers, the loads or the drivers. We do our best to deliver the load on time without complications, just like we take care of our drivers and, for example, make sure that they take the mandated pauses. This means we can carry out jobs maintaining the well-being of everyone involved." The most unusual job they have ever had taken was transporting a famous football players' forgotten shoes to a very important game the next day. Thanks to good contacts with Emdipa's partners, the shoes arrived on time after being transported both over land and by air. These types of special jobs lead the MD to describe his freight forwarding company as follows: "We take on the jobs that others will not do."
Matching offers and new business contacts through TimoCom
Emdipa is a satisfied TimoCom customer, and after using the service for six years, they are well acquainted with the essential advantages offered by Europe's largest transport platform. "We use TimoCom on a daily basis to optimise our workflow. The freight exchange helps us to avoid empty runs and to find suitable return loads, particularly during our frequent European jobs. This saves costs and even makes us extra money. Not only that, TimoCom has allowed us to expand within Europe, and the online transport directory has supplied us with new, important business partners, which we have now worked with for quite some time" says Jiménez. Two of the freight exchanges' basic functions offer real added value for Emdipa: "Due to the special jobs we take on, the filter function and the automatic update system are particularly helpful to us. We can always enter exactly what it is we are currently searching for or offering, and we do not miss out on any new offers" Jiménez adds.
Emdipa is the perfect example of how TimoCom's transport platform is useful and helpful for all types of freight forwarders - whether the jobs are large, small, regular, or unusual.
Download press release