Secure cargo space: The early bird catches the worm
When time is of the essence and a fast delivery is required, Hermes works effectively with TimoCom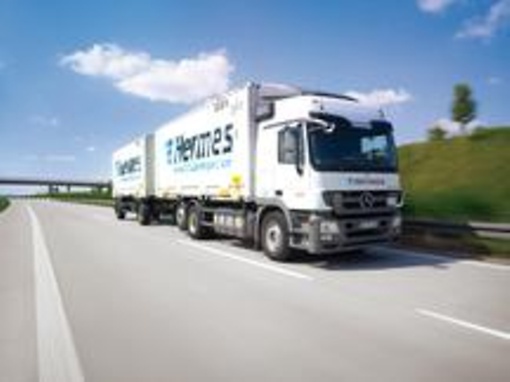 Dusseldorf, 2014-09-17. The principle of logistics sounds simple at first: Goods are brought from A to B. However, in times of complex flow of goods worldwide, it soon becomes clear what is really important for the customer: Dynamic transport concepts that guarantee speed, supply security and flexibility. The logistics service provider Hermes Transport Logistics also has to respond quickly to fluctuating demands. This works best with TimoCom's freight and vehicle exchange TC Truck&Cargo®. Due to there being up to 450,000 international offers daily from over 100,000 users, the logistics company can handle both full and part loads quickly and easily.
Cargo acquisition reduces empty runs
In the day-to-day work of Hermes Transport Logistics, both speed and customers' requests are given top priority. "TimoCom, as a market leader, offers an intuitive user interface in addition to the largest range of cargo and cargo spaces. With the aid of the electronic freight exchange, backlogs can be cleared quickly or available vehicle capacities of our fleet can be fully utilised", according to Marc von der Fecht, summarising the advantages. The department manager of Branch Management North/West is aware of the necessity of intelligent software solutions for the expansion of the company stock. "In order to be able to work efficiently, empty runs must be reduced which saves costs and CO2. And that works particularly well with TC Truck&Cargo®", von der Fecht continues. Hermes has worked together with TimoCom for two years; the internationality and market experience of both companies is highly valued from both sides. Marcel Frings, Chief Representative of TimoCom, welcomes the excellent relationship: "A partnership with a renowned customer such as Hermes is a sign of confidence and promises an innovative development with a promising future."  
Optimisation with extra services 
Within the scope of the good business relationship the logistics experts based in Hamburg also benefit from other TimoCom products and services. Staff regularly make use of the free transport barometer in order to obtain a good overview of the current cargo space situation. With the platform TC eBid® for Europe-wide freight tenders, transport contracts have successfully been completed. Due to the growing volume of transport of Hermes Transport Logistics, the programme interface TC Connect might also contribute to making work even easier in the future. The connection between the service provider's scheduling software and TimoCom's freight and vehicle exchange might enable offers to be transferred automatically. "We plan to reduce the acquisition effort further and at peak times certainly could work even faster and more economically with this tool." Von der Fecht is convinced of the advantages.
Download press release