Keeping a finger on the pulse for almost 70 years
Traditional companies focus on modern logistics solutions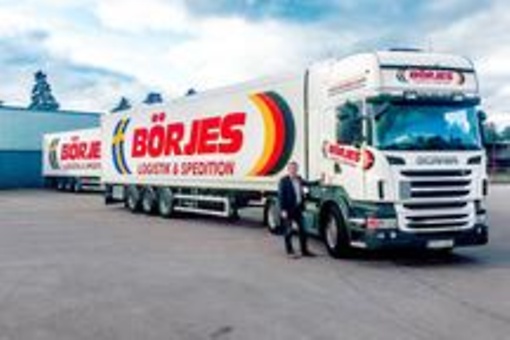 Erkrath, 2015-11-25 - Börjes Logistik & Spedition was founded back in 1947 and has operated successfully on the market ever since. A reason for this: The company is always prepared to accept modern developments and to implement them.
A quick response and perseverance are a must
Börjes Logistik & Spedition has already experienced a number of changes to the industry during its 68-year company history. It was and still is important to react to these changes, as Managing Director Roland Johansson states: "The growth of the industry sector is continuing to accelerate. The biggest challenge is monitoring changes to ensure that we can adapt to them quickly. We make every effort to ensure that we stay one step ahead of future developments." But how can a company remain competitive with such changes? Johansson explains: "We stand firm against the competition by not giving up our focus on quality and the environment. We need to be able to adapt to environmental requirements and quickly change anything that is not beyond our control." Johansson is also happy to share his opinion on the sensitive subject of cabotage in Scandinavia:  "It is important to stick to the rules and comply with all the laws and this also applies without exception to the cabotage." Johansson explains:  "Cabotage, which has been implemented in accordance with the valid regulation, supports the environment through reduced emissions and enhances competition by increasing transport utilisation."
A satisfied TimoCom customer for over ten years
Transport platforms such as TimoCom can now be used to stay competitive in the world of logistics.  Börjes Logistik & Spedition has already been a customer for eleven years and was satisfied right from the start:  "We immediately realised that TimoCom was offering an excellent basic product and had good ideas for the future. And we were right because TimoCom is currently the market leader among the European freight and vehicle exchanges with TC Truck&Cargo®. Depending on the market situation, we enter 75 to 100 offers on the transport exchange each month. The product is also extremely reliable.  We were also very satisfied with TimoCom's CashCare on the rare occasions we had to use it," explains Johansson.
Decade-long philosophy meets modern logistics services
Börjes Logistik & Spedition was founded by Börje Johansson, father of the current Managing Director, 68 years ago and is a family-owned transport company.  A total of 110 people are currently employed at the company headquarters in Nybro and at the German branch in Erfurt. Börjes Logistik & Spedition has its own modern vehicle fleet with 45 trucks and has generated turnover of 215 million Swedish krona over the past year. 
The company's main line of business is most definitely road freight transport in Europe.  However, it also caters to another increasingly important niche, e-commerce logistics, within the 3PL segment and  furthermore also transports dangerous goods with hazardous waste or ADR class 1.  The special feature of freight forwarding is, however, the combination of 3PL and transport services to offer customers a "one stop shop".  In order to be able to achieve this, the employees increasingly focus on reliability, punctuality, quality, the environment, safety and efficiency. However, the following quotation from the founder most reflects the values and visions which are the base of the company today:  "The customer is not somebody you need to impress or convince that you are right.  The customer is a guest who you should treat how you like to be treated."
TimoCom and Börjes Logistik & Spedition are the perfect match. The reason for this:  TimoCom makes every effort to further enhance product development to benefit the customer and Börjes Logistik & Spedition is always open to new developments which it effectively employs in everyday working situations.
Download press release