Cargo insurance for the spot market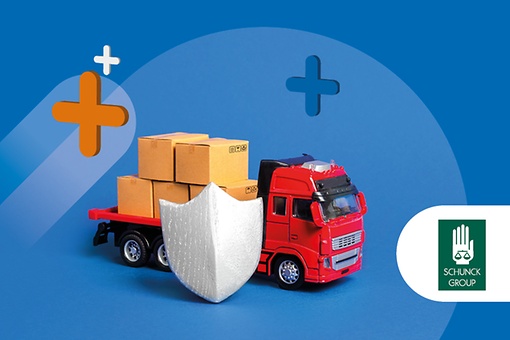 Cargo insurance for the spot market
TIMOCOM establishes strategic partnership with the SCHUNCK GROUP
Erkrath, Germany 05.12.2022 – TIMOCOM and the SCHUNCK GROUP are cooperating to provide cargo insurance. Starting immediately, all TIMOCOM customers can insure transport of individual loads with just a few clicks. "Our new partner, the SCHUNCK GROUP, allows our customers uncomplicated access to insurance for individual freight" according to Gunnar Gburek, Head of Business Affairs at TIMOCOM. "This is particularly useful for smaller companies, but also anyone who does not have current framework agreements with insurance agencies."
Full protection
Goods transport is a risky business, with the threat of total losses, damages or incorrect deliveries – and someone has to pay the expenses for problems that occur during loading, shipping or storage of goods. But freight forwarders and road hauliers' legal liability is often entirely inadequate for insuring the cost of the transported goods. This is where cargo insurance comes in. It is based on the actual value of the goods, and provides coverage even if said value is higher than the highest required statutory liability coverage, so nobody is left sitting on the costs in the event of a claim.
"We are working together with our partner TIMOCOM to provide quick and fair insurance policies which can be purchased online. And we are offering excellent conditions – TIMOCOM customers can select between four policy models, and insure goods worth up to €100,000," says Thomas Wicke, CEO at the SCHUNCK GROUP. "We are especially pleased that an API with the TIMOCOM freight exchange simplifies the process for customers, allowing them to access insurance exactly when they need it."
The cargo insurance service is integrated into the freight exchange and can be added to every uploaded freight with just the click of a button. The information needed for the insurance policy is transferred directly from the freight offer, so there's no need for manual data entry.
About SCHUNCK
The SCHUNCK GROUP (www.schunck.de) is a leading insurance broker and service provider for the logistics industry. We have years of experience providing innovative insurance products and IT solutions. Our focus is on consultation and customised insurance solutions that protect mid-sized customers from individual risks. We offer everything from transport liability and cargo insurance to corporate, environmental and product liability insurance, provision management, debt collection, factoring and cyber security. 
SCHUNCK was founded in 1919 and is part of the Ecclesia Group. The Ecclesia Group is the largest German insurance broker for companies and institutions, with over 2,400 employees. SCHUNCK has headquarters in Munich and 9 locations throughout Germany, as well as a subsidiary in Spain and a world-wide network of over 180 brokers.
About TIMOCOM
TIMOCOM GmbH is a mid-sized German FreightTech company, with more than 500 employees from over 40 countries and offices in Poland, the Czech Republic and Hungary. The IT and data specialist supports its customers in achieving their logistics goals with a marketplace for European road freight transport. More than 50,000 verified customers are connected to this marketplace, where up to 1 million international freight and vehicle space offers are entered every day. TIMOCOM is a trailblazer and pioneer, paving the way for the digitalised future of logistics.
Find out more about our leadership team, our company history, our milestones up to now and our applications in the TIMOCOM press kit.
Download press release