German 'super summer' overheats transport requests
Not just a driver shortage; there are not enough refrigerated vehicles.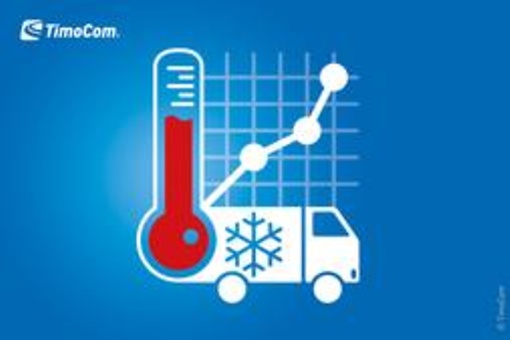 Erkrath, Germany, 2018-06-21 – the persistent summer weather in Germany is making the logistics industry sweat. The TimoCom transport platform reports that requests for refrigerated transports almost tripled between February and May this year. Result: there are already a few gaps on store shelves, as manufacturers are unable to transport their goods. 
This bottleneck of available capacities on the road goods transport market is worsened by the increased spring demand for vehicle space. "We can see that the number of freight offers in May rose by more than 30 percent in comparison to last year" reports David Moog, TimoCom Business Analyst. This is not just because the German economy remains strong. "Summer this year is extra hot, a 'super summer', and so of course the need for temperature controlled transport has exploded."
This does not just apply to transporting frozen goods or sensitive fresh products such as fruit and vegetables. Other items that must be transported within specific climate conditions include pharmaceuticals, anything containing chocolate and cosmetics - all within a documented refrigeration chain. "The tense situation on the transport market will only grow more strained over the course of the year" says TimoCom Company Spokesman Gunnar Gburek.
All-time high on Europe's largest freight exchange
One reflection of the current situation is the trend in transport offers and requests on the TimoCom platform. With up to 750,000 freight and vehicle offers daily, TimoCom is the leading freight exchange in Europe. On two separate days in May, reports Moog, the platform reached a peak of over 840,000 offers. At the same time, only 90,000 vehicles were available for 750,000 freight offers.
Gburek is convinced that only better utilization of the existing refrigerated vehicles and trucks can help relax the situation for a super summer taking place during an economic boom. This means adding free capacity to the market via neutral platforms - even if a transport company can fill their orders from the current freight surplus.
Gburek: "Unfortunately, a third of the trucks on our streets are not being used to optimal capacity, or they are on empty runs." Considering the increasing lack of drivers, this simply is no longer efficient and - for environmental reasons alone - difficult to justify.
Download press release