Freight forwarding companies GLK and Adar put TC eMap® to the test
TimoCom's tracking solution provides for more security and efficiency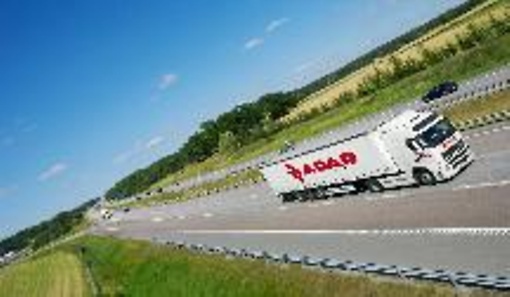 Dusseldorf, 2013-09-24. Since June this year a completely new TimoCom product is available which combines a route planner, a calculation module and vehicle tracking – TC eMap®. The special highlight: the integrated tracking solution shows all conventional telematics providers in one neutral platform and makes the job of freight forwarders, hauliers and industry and trade customers easier.
The visit on the transport logistic trade fair in Munich was worth while for the international freight forwarding company Adar. Employees who travelled from Elbing in Poland could be convinced of the advantages of the new tracking platform TC eMap® on the spot: "Already during the test period we found that the tracking solution comes in handy for us and that it will make our job considerably easier", says Adar's managing director Adam Aszyk. The freight forwarding company not only offers complex transport services in the field of groupage and bulk goods but also runs a repair service as well as a logistics centre. The fact that the company is open to new developments and technological solutions has largely contributed to its success. It has been using TimoCom's procurement platforms for over 13 years and is now also using the new tracking solution.
TC eMap® assists transport companies whose fleet is equipped with different telematics systems in tracking their vehicles simply and easily on one single map. In addition, they can manually grant permission for tracking the vehicles to other selected partners so that they can always keep track of their goods. To do so, they simply have to enter the TimoCom ID of the respective business partner and the desired tracking period. "The permission for tracking has been very well accepted by our business partners. We have heard that customers do search for trackable vehicles when allocating the next order", explains Aszyk.
The first in a freight exchange
The innovation in TC eMap® consists in uniting all conventional telematics solutions under one roof. Up to now, vehicles could never be tracked and be updated on just one map in which various telematics systems have been integrated. As Adam Aszyk confirms, the freight forwarding job can be done even more efficiently:  "The effect of TC eMap® is immediately noticeable. We no longer have to constantly keep our business partners posted. They can view the up-to-date position of the vehicles in which their goods are transported for themselves. That saves a huge amount of time"
Planners of the company GLK, Gaida Logistik Kompetenz, based in Germany have recognised the same advantages. The company Adar was one of the first to grant them permission for tracking. Managing director Horst Gaida clearly sees the benefits for his business: "It truly makes things easier for our planners. Every day we allocate dozens of transport jobs. Furthermore we have our own vehicle fleet. In the past our employees used to spend a lot of time collecting information from truck drivers. That is no longer necessary because all vehicles can be displayed on one map. They now only have to ask for permission for tracking from the haulier. It provides for an increased level of transparency and thus, security of transports."
The haulier decides
Transport companies and hauliers who decide to use TC eMap® do not take a risk. They decide for themselves to which company and for how long the grant permission for tracking. Entering vehicles in TC eMap® is done quickly: "A few clicks, log in, enter your password and it is done. All that only takes about 10 seconds", says Adam Aszyk.
TimoCom's Chief Representative Marcel Frings can already present positive figures: "The new technology is being used a lot. We have already linked TC eMap® with the majority of Europe's leading telematics providers and many more will soon follow.
Download press release