Flood relief knows no boundaries
"Ambassadors for Transport" help those affected by floods in the Czech Republic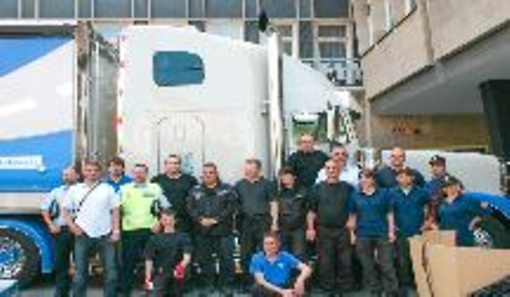 Dusseldorf, July 9th 2013. While we are safe and dry and only see pictures and watch reports about the Europe-wide flood disaster, the "Transportbotschafter e. V." initiative acted promptly and provided aid to the Czech Republic. The situation continues to be tense. 
"Ambassadors for Transport" is an initiative founded by the Dusseldorf-based IT company TimoCom. It supports the interests of the transport industry. Together with a local radio station and the local press it started an appeal for donations for those affected. Two members of the "Ambassadors for Transport" team spontaneously took the TimoTruck for a drive last weekend to collect contributions in kind or in cash from nearby companies and citizens in Dusseldorf to then bring them straight to Ústí nad Labem without great bureaucratic effort. A total amount of 6000.00 euros was donated by TimoCom staff in addition to which buckets, scrubbing brushes, gloves and cleaning materials were collected and loaded onto 25 pallets.
A colleague from the Czech representative office welcomed both drivers upon their arrival. He is in close contact with the of crisis unit and once again stressed the need for support: "We are delighted with the assistance from other countries. Our town has been flooded heavily and we can well use the money and especially the relief supplies such as cleaning materials and detergents. The collaboration of Germans and Czechs works out great."
Jochen Dieckmann, Alliance Manager of the "Ambassadors for Transport", is amazed by how well they were received:  "Pavel Bakule, commander of the local police and head of the crisis unit, from Ústí nad Labem thanked us for the support several times. From the town hall we drove through the town with the sirens on. We were accompanied by police and the people almost cheered to us."
Dieckmann once again explained why they did not help in Germany: "Of course, we offered to help but the support of Technisches Hilfswerk [German Federal Agency for Technical Relief] and the military was provided already and according to our contacts no further assistance was needed." Last Tuesday the "Ambassadors for Transport" returned to Dusseldorf healthy and happy.
Download press release