European transport market fluctuates
TimoCom's transport barometer in the 4th quarter below last year's level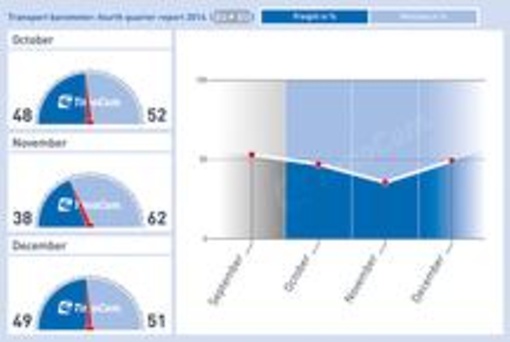 Dusseldorf, 2015-01-13 – Same procedure as every year – would probably sum up the general tendency of TimoCom's transport barometer. In direct comparison with 2013, however, this is clear: The freight share on the overall European transport market remains below average at 45:55 in the 4th quarter due to cyclical reasons.
Essentially the developments are consistent with the prognosis of a slight decline from the quarterly report 3/2013. After a strong September with a ratio of 54:46, the values for October decreased similar to 2012 and 2013, however remained relatively stable at 48:52. "The transport month November then went even further down than expected with a freight to vehicle ratio of 38:62" stated Marcel Frings, Chief Representative at TimoCom. A closer look at the European market suggests that December showed an encouraging upward trend again. "In our estimation, however, a freight surplus is not expected in the Christmas month" said Frings. With a 45 percent freight share TimoCom's transport barometer is at the same level as 2012, but does not achieve the 2013 values of 52 percent. So, 2014 closes with seven percentage points more vehicle offers than the previous year. This is consistent with the experiences of TimoCom customers. Due to a slight overcapacity all transportations could be carried out.
The 4th quarter in 2014 shows more or less the same tendency as the previous three years. The months of October, November and December show a considerable market fluctuation, which is also evident for the entire year in retrospect. "We recognize this up and down trend from 2012. Looking over the course of this year and comparing these with the values from two years ago, we can assume a healthy start for 2015. This is nothing unusual for the turn of the year, but suggests a decline in the freight share at 30 to 35 percent", compares Frings the start of 2013 on the European market to the upcoming one.   
In spite of some turbulences Frings is optimistic for 2015. "We have around nine percent more demand than the previous year. This indicates that the European market situation in Europe has developed positively", sums up Frings.
Download press release