Confirmed by German magazine freundin: TimoCom is Top Employer 2017
The IT specialist in Erkrath (Germany) belongs to the top 100 family-friendly companies in Germany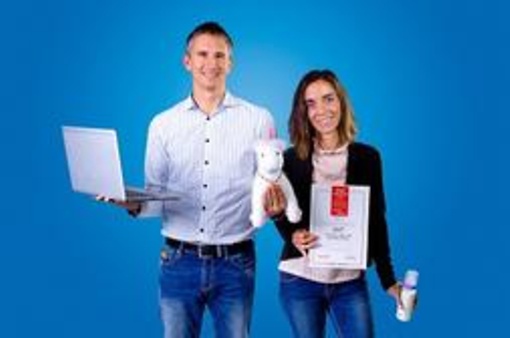 Erkrath, Germany, 2017-11-24 - On 4 October the German magazine freundin together with the rating platform kununu chose the 100 most family-friendly employers in Germany. The family run company in Erkrath, TimoCom, was also on the list and joined the ranks of the IT giants such as SAP SE and Adobe. As Top Employer 2017, the medium-sized company ensures optimal working conditions and a specially family friendly organisation.
Reconciling family and career
The Marketing and IT departments have just welcomed back two new parents from their leave - the second time mum África Narbona Gil and the young father Daniel Crosina - just when the award from one of Germany's best selling magazine arrived. Daniel Crosina, IT Product Manager at TimoCom and father, explains why TimoCom earned the title family-friendly employer. "To attend to my daughter's needs when she most needed it, I was able to flexibly arrange my two months parental leave. Home-office days are also a great relief. With it, family and job can easily be combined."
Approximately 1.3 million kununu reviews on over 250,000 companies have been included in this joint study. Here, former and current employees from a wide range of areas and sectors were able to rate their employers. The focus is no longer just on the usual criteria such as salary and working atmosphere. In particular, family-friendly offers such as flexible working hours, occupational pensions and childcare were able to score points. África Narbona Gil, Country Manager Spain and mother of two children, confirms this: "I was on parental leave, even in Portugal for a year, and was able to return easily to the company. Here you do not need to be afraid of starting a family. Such possibilities are seldom in Spain. Part-time jobs or childcare possibilities within the company are not as common."
The next step: Parent-child offices
The company based in Erkrath, Germany, would like to increase its family offer in the following years. Jasmin Dörr, employee at TimoCom in the Human Resources Development and Employer Branding area and responsible for the well-being of her colleagues, reveals: "As for childcare, in the future there will be parent-child offices for the employees that are already parents and for those who would like to be parents."
It will become even easier for TimoCom employees to combine family and career. The IT service provider recognised that it is extremely important to implement a good work-life balance in a contemporary company.
Download press release