BMEnet awards TimoCom for "transport procurement"
The transport platform receives the seal of approval from BMEnet GmbH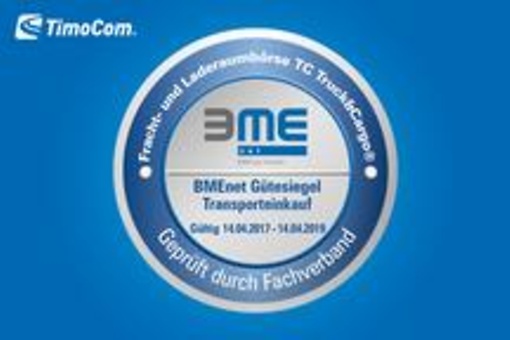 Erkrath, Germany, 2017-03-27 - TimoCom's transport platform has been awarded by BMEnet GmbH, a subsidiary of the Bundesverband Materialwirtschaft, Einkauf und Logistik (BME) e.V. (Association Materials Management, Purchasing and Logistics - AMMPL), with the seal of approval "Transport procurement". The award confirms TimoCom's efficiency, user friendliness and contribution in increasing market transparency.
Building the future of transport procurement together
The continuous growth in digitalisation and the ever more unforeseeable consumer behaviour, are changing the way of transport procurement. In addition to framework agreements, companies increasingly need supplementary flexible solutions to react quickly, easily and securely to market fluctuations.
With up to 150,000 vehicle offers daily in the spot market and a logistics network of over 36,000 verified companies throughout Europe, TimoCom offers the perfect application - and also increases market transparency. "The award confirms that we are on the right track. We will continue encouraging the digitalisation of transport procurement in close contact with hauliers, freight forwarders and shippers", explains Gunnar Gburek, TimoCom's Company Spokesman, and gives concrete information on the next steps: "In May we will present a new application at the transport logistic trade fair in Munich, which will make it even easier for the companies involved to digitalise their business."
Main focus and results
The BMEnet GmbH seal of approval is awarded to integrative software and platform solutions that optimise procurement and logistics. Technical features such as data exchange and communication are the main evaluation aspects of the transport platform. TimoCom scored well here with its numerous interfaces to telematics providers and customer's TMS systems as well as the offer-related communication tool, the TimoCom Messenger. Furthermore, the high security standards and user friendliness are convincing.
Another important criterion is the neutrality of the transport platform. According to the BME Association, this helps to strengthen companies' compliance guidelines. The commission also highlighted the functional selection and search filter as well as the input possibilities, which enable a more efficient and targeted work. Altogether, the TimoCom platform is a win-win solution for both sides: for the companies from manufacturing and trade, that need loading space on short notice, as well as transport companies, that search for freight to avoid expensive empty runs.
Download press release