Beyond borders: TimoCom welcomes Croatian vocational teachers
Cooperation with Croatian educational institutions for promotion of young talent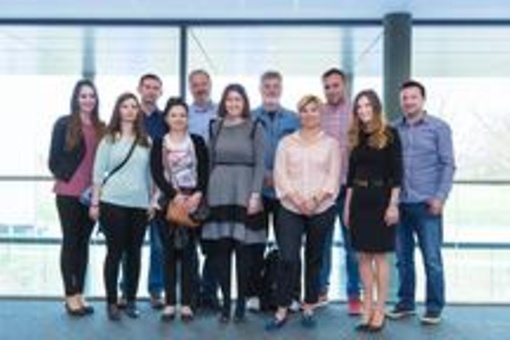 Erkrath, Germany, 2017-04-21 – TimoCom, Europe's largest transport platform, cooperates with more than 90 educational institutions across Europe, including seven vocational colleges and universities in Croatia. The IT service provider regularly holds presentations and runs workshops at schools. The goal is to prepare new recruits to the logistic industry for the current demands of the job. As part of a new Erasmus+ program "Perpetuum mobile 3", nine teachers from three Croatian vocational colleges visited the TimoCom headquarters in Erkrath, near Düsseldorf, at the end of March. The presentations and workshops they took part in made it clear that constant change and flexibility, both on a personal and technical level, are the foundation for all functioning logistics measures – "Perpetuum mobile", as it were.
TimoCom supports student's project work
At the beginning of the day, Ana Domanovic, TimoCom Marketing Assistant, and Tina Pandza, TimoCom Country Manager South-Eastern Europe, held a presentation for the representatives from the Vocational College for Technology and Traffic,Varaždin , the Vocational College for Economics, Čakovec, and the Vocational College for Road Transport, Zagreb on "Transport Industry IT, Example TimoCom".
The workshop that followed taught the group, based on case studies, how to utilize a transport platform to react flexibly to the constantly developing logistic and market situation. The participants soon understood how important it is to adjust as quickly as possible to new conditions, such as increasing digitalisation, international networking, and the expected level of transparency.
Focus on interdisciplinary mobility
After taking part in the workshop with TimoCom, the teachers will provide similar workshops to their students, as part of successful participation in the Erasmus+ program. This program is particularly focused on mobility in logistics, technical changes, increasing digitalisation as well as overcoming cultural and geographic borders. TimoCom, which has a network of over 36,000 transport, logistics, and manufacturing companies from 44 European countries, is therefore the perfect partner for the students in the Erasmus+ project. 
Darinka Lončar Kočić, a teacher at the Vocational College for Technology and Traffic in Varaždin, agrees: "TimoCom allows us to use a transport platform as part of our day to day teaching. Today's visit helped us to get to know the new features TimoCom has introduced. This means we can help our students keep up to date with the skills required by today's job market."
Download press release