April brings record number of offers to TimoCom
Over 750,000 freight and vehicle offers on the transport platform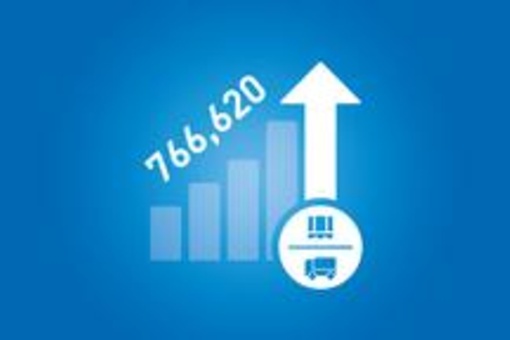 Erkrath, Germany, 2017-04-24 – Last Wednesday, April 19, delivered a clear sign that the economy is recovering, with a record number of 766,620 international freight and vehicle offers on the TimoCom transport platform. This is the highest number of offers ever recorded in a single day in the past 20 years. Freight and vehicle offers are published daily on the TimoCom transport platform by more than 120,000 users from across Europe. The state of the offers on Europe's largest transport platform is a reflection of the current road transport market. 
Predicted economic boost clearly visible
According to a report from the World Trade Organization, WTO, the global volume of trade in goods is going to rise another 2.4 percent over the course of the year. The positive developments were already clear over the two weeks surrounding Easter. For example, on April 19 the TimoCom transport barometer showed a freight to vehicle ratio of 87:13 across Europe. With 766,620 offers, that meant more than seven freight requests for a single truck. This means there was a high surplus of freight to be transported in comparison to available loading space.
Easter boom on the road and on the transport platform
Gunnar Gburek, TimoCom Company Spokesman, explains two of the most important factors for the current higher than average number of requests for free loading capacity in road transport: "Easter public holidays and Easter holidays practically guarantee increased consumption. The generally mild weather definitely helps with this trend, bringing both more people and goods onto the street. Large market fluctuations are going to be more frequent in the future. Which is why it is important for customers and contractors in the transport and logistics industry to create digital networks, which reduces complexity. The TimoCom platform is the perfect way to react flexibly, efficiently, and securely to any and all market situations. 
Download press release