All roads lead to Milan: TC eMap® continues on the road to success!
TimoCom wins the most important Italian transport industry accolade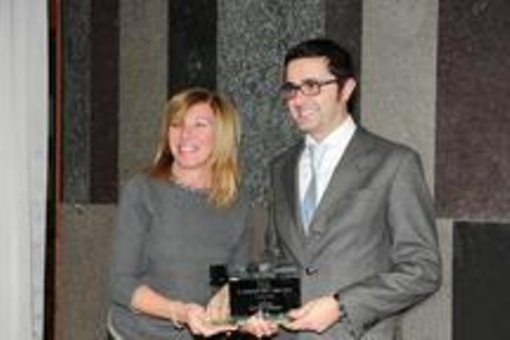 Düsseldorf, 2014-01-16 – The Düsseldorf IT company TimoCom has once again hit the mark with its calculation and tracking solution TC eMap®. With the award of the title "Il Logistico dell'anno", the freight exchange provider received one of the most coveted acknowledgements from the Italian transport industry at the end of November 2013. 
The advantages of TC eMap® are convincing
This year once again, the logistics award was conferred by the Italian logistics association "Assologistica", together with the trade magazine "Euromerci" and the organisation "Cultura e Formazione – Assologistica" in seven categories. TimoCom convinced the jury with its 3-in-1 solution - TC eMap® - in the "Technology" category. The unique tracking solution displays all the common telematics systems in just one platform and at a glance. So transport companies no longer need to switch between different providers and can locate their vehicles conveniently on a single map. The integrated route planner, TC eMap®, also allows route mileage and trip costs to be determined for the selected route and the current traffic information to be displayed in real-time. "This new technology optimises the information path between the contractor and customer and makes the transportation business more transparent, reliable and efficient", Tommaso Magistrali from TimoCom is certain. On the occasion of the presentation gala at the Italian Logistics Conference in Milan, the Country Manager received the award from the president of the "Cultura e Formazione – Assologistica", Donatella Rampinelli. Among the other winners of the evening were Italy's biggest haulage company, ARCESE Group, as well as DHL Supply Chain Italy.
Bartolomeo Giachino, Secretary of State for Transport, in his award ceremony speech, stressed that although Italy is the eighth biggest economy in the world, the Italian transport and logistics sector still had its weaknesses. In the coming years, measures should be intensified to further promote efficiency and competitiveness in the logistics industry. With its products, TimoCom already makes an essential contribution towards attaining these goals. "The award shows that we can increase our users' productivity throughout Europe by developing professional solutions and this success is also recognised by the transport and logistics industry", according to Magistrali.
Find more information on TimoCom at www.timocom.co.uk
Download press release