Logistics expertise
24.11.2020
Working in the Logistics Industry – Supply Chain Managers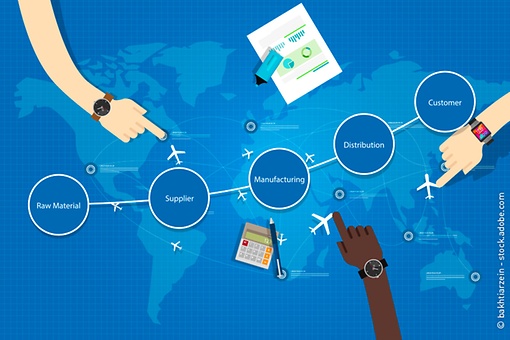 They are the key players when it comes to coordinating added value and supply chains: Supply Chain Managers. They keep an eye on things and are in charge of controlling the flow of goods and information. But what specific tasks fall under the heading of Supply Chain Management? And what are the chances of landing a job?
In our TIMOCOM blog series, we take a look at work in the transport and logistics industry and discuss current trends and developments. In the last blog post, we discussed what exactly a dispatcher does. In this, the third blog post in this series, we talk about the job known as Supply Chain Manager.
What do supply chain managers do?
How much do they earn?
Where do they work?
How many hours do they typically work?
What qualifications do they need?
How is digitalisation changing the job?
Supply Chain Managers – a job with a future
What do supply chain managers do?
Supply chain managers organise and coordinate the entire added value chain within a company. Supply chain managers plan and supervise the entire product process, from acquiring raw materials to overseeing product manufacture using these materials and up to and including transporting the finished product to the customer. The goal is to select optimal transport routes and means, meet delivery deadlines and avoid delays if at all possible, ensuring that these processes add value every step of the way.
Supply chain management deals with a variety of external partners including suppliers, customers and service providers. All these partners must be coordinated as part of the supply chain process. The main job carried out by supply chain managers consists of planning and managing the flow of all materials, information and money.
How much do they earn?
Anyone who wants to become a supply chain manager needs a Bachelor's or Master's degree in economics or industrial engineering, and so the starting salary is quite high. The average starting salary in Germany is €48,000 annually, although of course salaries may vary depending on the size of the company and its location. With enough experience, supply chain managers can go on to earn €80,000 per year. Supply chain managers play a key role in company logistics and are expected to take on a high degree of responsibility.
Where do they work?
Every large company needs a supply chain manager, from automotive supply companies to machine manufacturing enterprises. Manufacturing companies are one of the main employers for this job, because they accept deliveries of raw materials and then have to send a finished product to their customers. Now consider a company with multiple products and a variety of models, and the situation quickly seems complex and confusing. And so these companies require supply chain management, which is used to plan and coordinate the supply chain.
How many hours do they typically work?
Supply chain management is probably starting to sound quite complicated. But it is also very versatile and time intensive. Most supply chain managers work 50 hours or more in a week. If everything goes according to plan, well, that's ideal and they might need to work less, but how often does everything go according to plan? What do you do if a supplier is experiencing bottlenecks and cannot deliver on time? What is the best solution if a delivery driver is stuck in traffic, and there will be a significant delay? When this happens, it is the supply chain manager who is responsible for coordinating all the moving parts and finding a solution. Solving these problems requires that the supply chain manager keeps cool, and the time it takes to sort everything out satisfactorily is one of the reasons for the long work hours.
What qualifications do they need?
The most important requirements are the ability to think analytically and plan in advance. If organisation is one of your strong points, you will likely do well in this job. You also have to deal well with stress and be able to get things done at short notice. And it doesn't hurt to be good with numbers. On top of all that, these days it is essential that you be comfortable using computers in order to monitor company processes digitally. Most international business is carried out in English, but speaking a foreign language well is a definite plus.
In Germany, the most common path to finding a trainee position at a company is to study economics. Industrial engineering is another sought-after degree for the field. Job ads frequently ask for a degree in logistics/supply chain/economics. It makes a lot of sense to find a program offering degree-level apprenticeships, so that you can gather practical experience during your studies. Supply chain managers really benefit from gaining practical experience and taking on responsibility as early as possible. Once you have your Bachelor's or Master's degree, you will want to find an internship at a company and get some on-the-job training.
How is digitalisation  changing the job?
Markets are becoming more international, and work processes at modern companies gain in complexity every day; the result is that digital tools such as ERP systems (Enterprise Resource Planning Systems) are essential for supply chain management. In addition, intelligent systems such as TIMOCOM's Smart Logistics System offer multiple digital applications designed to assist with transport processes, such as the freight exchange, which hosts vehicle space and freight offers from all across Europe.
These are only a few examples of increasing digitalisation in the transport and logistics industry, where the goal is to control the entire transport process digitally. Dealing with these systems and digital tools is a normal part of a day in the life of a supply chain manager, allowing them to keep an eye on and manage every single step in the process.
Supply Chain Managers – a job with a future
Supply chain managers have excellent employment prospects, because they can find jobs at almost all large companies dealing with manufacturing or shipping products, and because the transport and logistics industry is growing. Plus, the job market continues to focus on highly qualified specialists, including supply chain managers. This job really reflects current global trends: new commodity flows, new technologies and delivery methods. These constantly changing factors are an essential part of the job, so you know it will be exciting, modern and above all, never boring.