TIMOCOM Start-up Blog: Advice for road hauliers: how to stay safe in winter conditions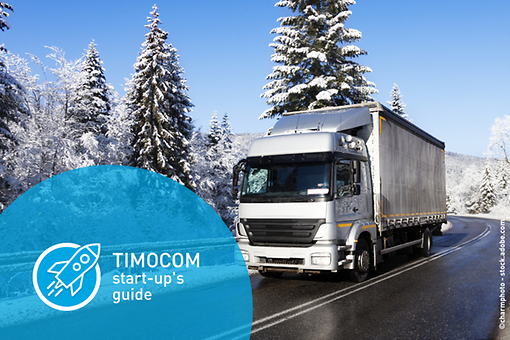 According to the Handelsverband Deutschland, or German Trade Association, around 19 percent of annual turnover in Germany is generated during the months of November and December. This requires seamless supply chains, but of course they are vulnerable to disruptions during the cold winter months. Fortunately, freight forwarders and transport companies can prepare for winter in order to take full advantage of the busy season.
Each year, the holiday season brings additional challenges, including increases in traffic, the fact that customers are on tighter deadlines, and of course bad weather and poor driving conditions. This blog post provides some tips for preparing for the end-of-year rush and dealing with bad weather.
If you already feel well equipped to handle wintry conditions, but need a hand figuring out how to optimise orders and work at full capacity, then check out our tips for avoiding empty runs.
How to keep you and your vehicle fleet safe in icy and snowy conditions
Snow storms and sudden changes in the weather are considered force majeure, and are often difficult to predict. Prepare for the worst by making sure that you can drive safely, and use mandatory rest breaks to double check your precautions.
Winter tyres for trucks: M+S or Alpine?
For over two years now, winter tyres have been mandatory on all axes in Germany for trucks weighing more than 3.5 tonnes. If your vehicle is in need of new tyres, alpine tyres are the right choice. That's because mud and snow tyres are only permissible for use in Germany until 2024. After that deadline, any winter tyres must display the alpine symbol, that is a pictogram of a mountain and a snowflake. These tyres have undergone brake testing on snow, and considerably shorten the braking distance of a vehicle; this is especially true for lorries and trucks.
Tread depth and tyre pressure
The legally required minimum tread depth in Germany, according to Section 36 of the German Road Traffic Permit Act (StVZO) is 1.6 millimetres for all tyres, including winter tyres on trucks. However, for safety reasons, a depth of 6 to 8 millimetres is preferable. When checking tyres, pay attention to uneven signs of wear and tear. The ideal tyre pressure is, depending on the vehicle and size of the tyre, between 7 and 9 BAR. Check the manufacturer's specifications against the current tyre pressure before each journey to ensure there is enough air in your tyres. In winter, in particular, it makes sense to raise your tyre pressure by around 0.1 to 0.2 BAR in order to achieve more traction.
Motor oil, battery, antifreeze
Go with the flow: make sure that your motor oil remains liquid even at very low temperatures. All motor oils feature labels with two values, the first represents the viscosity of the oil at low temperatures. All-year oil 15W-40 can be used in temperatures down to minus 10 degrees, 10W-40 to temperatures down to minus 20 degrees and fully synthetic oil 0W-40 can be used down to minus 40 degrees.
It is also important to double check that you have topped up the anti-freeze in the radiator and the windscreen wipers. In addition, you will want to check that your battery is in a good condition, as it works harder in winter than it does in summer. This should be done as part of a vehicle inspection.
Go through the following checklist before starting your journey
Once the temperatures approach freezing, you should be checking the following things on a regular basis, so you can be sure that all important vehicle functions are working correctly and safely:
Check that the heater and defroster are working
Check brake and headlight function
Test all gaskets and cables, especially those on the underside of the truck
Regularly clean all lights, windows, windscreens and mirrors.
Remove any sheets of ice from the top of the truck (if you often drive in extremely cold conditions, you may want to invest in automatic de-icing systems for the roof of your truck)
It is also important to always carry equipment that will make your life easier in general while keeping you safe should something happen:
Warm clothing (winter jacket and boots, gloves, a warm hat) and a blanket
Plastic ice scraper, hammer, screwdriver, shovel
Snow chains and grit
An adequate supply of food and water
A propane heater and a lighter
Methanol (for fuel and pneumatic lines)
Phone charger and/or power bank
Driving safely
The most important thing you can do to stay safe is to adjust your driving to match weather conditions. Braking distance can double when the road is wet or snowy. You should also always drive with your lights on and keep both hands on the wheel. Black ice and blowing snow are unpredictable, and you may have to react within seconds. Please also be particularly careful when driving onto bridges and overpasses, as these are very susceptible to ice build up.
It's a lot to remember, but fortunately we've collected all the most important information on driving safely in winter for you:
Download the PDF winter checklist
Keep your business as safe as your driving, with TIMOCOM
The holiday season will soon be here, and industry associations are once again expecting demand for logistics services to increase. The industry is currently under a lot of pressure, what with the driver shortage, supply chain issues, payment problems and of course the continuing eCommerce boom. Now is the time to prepare, and one of the best ways to do that is to put your business on the path to success with digital applications and services.
Use the TIMOCOM Marketplace to optimise vehicle capacities and stay up to date on even the most recent road blocks using the Routes & Costs application. If, despite all your preparations, you end up delayed due to snow or traffic jams, your customers will thank you for ensuring they can follow your progress in real time with Live Shipment Tracking, allowing them to keep abreast of your Estimated Time of Arrival.
If you are curious about trying out TIMOCOM to improve capacities and planning, click the button below: