Logistics expertise
18.07.2022
What is 3PL, and why will logistics challenges be a thing of the past for your business using a freight marketplace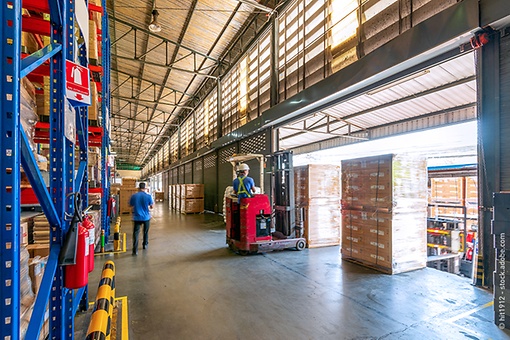 As many business owners will have experienced first-hand, a smooth fulfilment process is essential to a company's success. However, the challenges associated with a well-executed logistical operation can be a real deterrent to company growth. For many businesses, especially smaller firms or up-and-coming eCommerce companies, handling everything in-house is simply not the most efficient or profitable option. 
Using a 3PL is one option to help improve a business' logistics and overall efficiency, another option is working with a freight marketplace tool that complements a 3PL or can be a standalone tool and can offer you a more hands-on approach
What is 3PL?
As a result, businesses often search for alternative solutions to handle their fulfilment needs. A standard answer here is using a 3PL, a third-party logistics company. Within this marketplace, the external 3PL takes over the entire fulfilment process for the company. With these matters taken care of, the business can focus entirely on its most important tasks – branding, growth, and delivering the right customer experience.
3PLs take on multiple tasks for businesses, including:
Warehousing
Inventory management
Packaging
Freight forwarding
Customs Brokerage
Shipping and distribution
Of course, not all 3PLs are created equal. Whereas some may offer only the bare basics of the fulfilment process, others may provide additional services such as specialised shipping or return deals or customised packaging options to improve your customer's experience. Similarly, the operational process can differ significantly between 3PLs. While one organisation may require manual input of each separate order, others make use of integrated software that effectively merges the client company into their Marketplace, even further automating the fulfilment process.
Alternatives to 3PL
In addition to the solutions offered by a 3PL, several other options exist. 4PL, for instance, takes the matter a step further. These fourth parties function as a liaison between the contracting business and the 3PL that fulfils its logistical needs, thus covering the fulfilment itself and the communicative process surrounding it. Freight brokers, in contrast, focus not on the entirety of the fulfilment process but specialise in connecting businesses with drivers or carriers. Rather than transporting the goods themselves, they essentially mediate between the business and potential transporting partners.
While these options certainly offer some promising choices for many businesses, it does leave some questions about the potential for further development and independence for the client company. After all, with all the connective processes occurring through the external party, opportunities for networking and potential collaborations are effectively hidden behind the mediator. As one can imagine, this can significantly hinder potential company growth. And this is precisely where TIMOCOM's Marketplace comes in.
How can a tool such as this improve logistics?
Keep in mind that TIMOCOM's Marketplace is not a 3PL – and we consider this a good thing. Rather than taking over all these essential business processes entirely and resolving them behind closed doors, we have created a comprehensive collection of services and applications that share our wealth of knowledge and connections with you, our valued clients. TIMOCOM offers your company just the equipment you need to overcome the hurdles of transportation problems – and handle them yourself with ease. 
Consider a freight marketplace not as a one-size-fits-all solution but as a multi-dimensional tool that can open up a world of possibilities for the growth and development of your company. With almost 150 thousand users, our Marketplace provides you with a vast network of potential business partners and exciting new opportunities, whether it's a service provider or a transport customer that you're looking for.
The Benefits of TIMOCOM's Marketplace
Take, for instance, our extensive freight exchange platform. Whereas a traditional freight broker merely acts as the intermediary between client companies and transport services, TIMOCOM takes an entirely different approach. Our platform gives you access to up to 1 million international freight and vehicle options daily, enabling you to independently evaluate and select the business partners best suitable for your company. 
Similarly, our warehousing exchange solution provides you access to the largest B2B network in Europe of its kind, opening up more than 9,000 spaces across 46 European countries for your storage and logistic needs. 
These are only two of the countless possibilities offered by TIMOCOM's Marketplace. Whether you're seeking to request and compare quotes for international transport or looking for a way to optimise your planning process, TIMOCOM can offer the solution. Our Marketplace enables effortless planning and tracking of all your transportation – our integrated marketplace combines a collection of data from 268 connected providers into one single map.
On top of smooth planning and transparency towards your partners and customers, our Marketplace helps prevent the need for empty runs and the associated loss of profit. And with our extensive business network, made up of over 50,000 verified companies all across Europe, you can find the right firm for all your needs – and, of course, open yourself up to be seen by others. 
Rather than having to reroute your entire existing process, TIMOCOM's Marketplace is designed to merge with your current routine, handing you the tools needed to facilitate your daily operations and automate your tasks. As such, our interfaces allow you to continue using your preferred software, removing the need for double data entry or other inefficient processing. Indeed, what sets our marketplace apart is the flawless integration of all our applications and services through our innovative interfaces.
3PL isn't a necessity for improving efficiency
Using a freight exchange to support your business' logistics helps to improve efficiency and can have a knock-on effect on improving business relations, processes and your bottom line. With our marketplace, you gain access to all essential functions for your business's transportation needs, ensuring an effortless synergy across the entire marketplace and the opportunity to work more efficiently. 
Ultimately, using a freight marketplace awards you the opportunity to remain more in charge of your own business than solely working with 3pl and to locate exciting opportunities for further development.