Logistics expertise
18.07.2022
Warehouse shortage: why you need a new strategy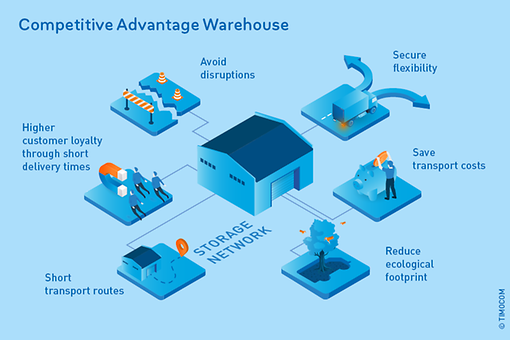 Profits made from selling storage space have more than tripled over the past 20 years, and space at the most important hubs is already at a premium. Experts predict that Germany alone will require around 4 million extra square metres of warehouse space by 2025. But why is there a shortage? This blog posts explains the shortage and gives you some tips and tricks for dealing with it.
Your trucks and warehouse are bursting at the seams? No problem! Discover the warehouse application in TIMOCOM's Smart Logistics System to find suitable storage in your area.
Why is there a warehouse space shortage?
It's obvious when you think about it: online shopping is booming. And when you factor in the pandemic, eCommerce is stronger than ever. Consumers have developed new habits that are putting a strain on warehouse logistics. The continued reliance on just-in-time deliveries means that more and more companies in metropolitan areas are dependent on warehouse space in those areas, so that smaller and mid-sized warehouses are simply full. Plus, many mid-sized logistics companies don't actually fully utilize their warehouse space; they lack the flexibility they need, meaning valuable potential income is lost.
This development represents a challenge for industrial and commercial companies, but is also a great time to rethink and try new strategies. After all, warehouses are more than just a place to store goods at the lowest possible price, they can also offer real competitive advantages.
B2C customers expect a higher level of service
Mini urban warehouses and transport companies with excellent networks have changed the world: now end customers expect express deliveries and free returns. Food, medication, electronics, toys and even furniture: practically anything can be delivered to a customer's door within just a few hours, or even minutes. That's a guarantee! This new reality could only be created using excellent warehouse logistics strategies. Whether or not it is actually sustainable or efficient, on the other hand... One thing is for certain: customer expectations have changed and are now having an effect on the B2B sector.
B2B challenges
For industrial and trade companies, the coronavirus crisis also really placed the focus on warehouse logistics. Unreliable global supply chains and severe raw materials shortages suddenly transformed warehouse space into a competitive advantage. Many companies bought up primary products in order to get ahead of delivery bottlenecks. However, additional shortages often meant that these products sat in storage centres, waiting for other components to arrive before they could be processed.
And then, of course, some companies started manufacturing products directly within their sales markets, in order to avoid dependence on international supply chains. The result: even more demand for warehouse space. Smaller warehouses, in particular, are extremely popular.
Flexibility in uncertain times
Emergencies such as the COVID-19 crisis and the war in Ukraine have really highlighted the importance of warehouse space. In order to react flexibly to shortages and avoid disruptions, it is important for businesses to utilise a network of warehouses and not simply rely on a single partner. Digital tools such as TIMOCOM's warehousing exchange can help.
One of the most important service guarantees a modern company makes to its customers is that the product will be delivered quickly and reliably. However, they can't keep that promise if the product is stored far away from the customer. The best idea is to look for warehouse space that is as close as possible to potential clientèle. This allows companies to react quickly and flexibly, while also saving on transport costs and not-so-incidentally reducing their carbon footprint.
TIMOCOM's warehousing exchange helps you do just that. It offers access to over 9,000 warehousing and logistics spaces across 46 European countries. Search for warehouse space just like you search for information on the internet, at precisely the locations that make sense for your business. It also offers the option of filtering for the number of square metres required, type of storage or special equipment, so you know you will find the space that is right for your needs. Discover the TIMOCOM warehouse exchange today and test our Smart Logistics System to optimise and secure your supply chains.