TIMOCOM Start-Up Blog: Have you started a transport business?
Safeguard your liquidity and expand your vehicle fleet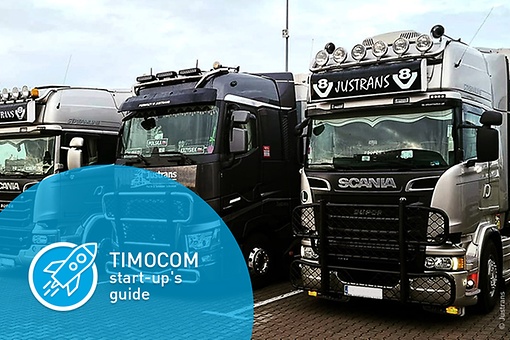 For new companies, safeguarding liquidity and maintaining an acceptable debt to equity ratio can be difficult. Factoring can be a valuable resource. For TIMOCOM customer TSL Justrans s.c., a Polish company, receiving payment within 24 hours is the biggest advantage of working with TIMOCOM partner JITpay™. Factoring improves liquidity while simultaneously creating growth opportunities, such as the ability to expand their vehicle fleet.
So it's a good thing that TIMOCOM's start-up customers, such as Justrans, have access to JITpay, a company well known for providing financial solutions within the logistics industry. Transport companies profit from their services, which guarantee prompt payment in the short term and therefore safeguard profits and liquidity in the long term. The following blog post explains the advantages factoring offers to logistics start-ups and how TSL Justrans s.c. used the service to master the challenges they faced.
Are you a start-up that has been in operation for at least 6 months? Join the TIMOCOM network, made up of over 50,000 European companies, now:
Apply now to test the service!
Payment: not always the first thing you think of when founding a company
When Marcin and Sylwester Juśkowiak launched their transport company in the summer of 2018, they were driven by a passion for life on the road and by their love of truck driving.
"We are brothers, and we come from a family of drivers. We've been on the road since we were kids," the owners explain. "We get it from our father. As soon as we could get our licenses, he made sure we could drive a truck."
This passion inevitably led them to launch their business. Justrans specialises in the comprehensive organisation of transports via the SENT-System, sending goods across the entire European Union as well as Switzerland and Scandinavia. The owners have a wide range of experience transporting fuels; their portfolio includes all ADR goods classes. However, it turned out that safely transporting hazardous materials was not the only challenge they faced.
Payment terms of at least 90 days are hardly unusual in the transport and logistics industry. This is of course in stark contrast to the bills young entrepreneurs must pay to run their business, such as office rent, loan payments, costs for vehicles, incidentals, and more, which often have much shorter payment terms.
Liquidity for start-ups: factoring guarantees quick payment and improves credit scores
After starting their international business, the brothers from Nowa Ruda in Poland were suddenly faced with a daily battle to win customers and secure liquidity. Reacting quickly to offers in order to retain old and attract new customers requires a certain amount of financial leeway. It was therefore very important that customers pay promptly for the services they had received. If they did not, it affected Justrans' ability to be seen as a reliable business partner. After all, transport service providers must pay their invoices on time and require a good credit score for transactions such as the purchase of new vehicles.
"We didn't want to get behind on our payments, not even by a single day," both brothers emphasise "and it's important not to forget that we also had to cover our running costs for things like fuel and tolls. Financial liquidity was essential, without it we could not expand our business."
The main benefit of a factoring service is that payments are made within 24 hours
It's been four years since the Juśkowiak brothers started their company. During this time, the owners of Justrans have developed tried and trusted methods for increasing their customer base and ensuring that invoices are paid. They find new customers using TIMOCOM's Smart Logistics System. Companies who join the platform can use it to create national and international networks of customers while simultaneously optimising capacities and processes.
To guarantee prompt payment, the brothers make use of the JITpay™ factoring services, available in the transport orders application, which is part of TIMOCOM's System. Users can check the freight offer to see whether this option is available for a particular transaction, so they have that information before deciding to accept an order.
"Our partner pays customers 24 hours after receiving the invoice, charging only a small fee which starts at 1.99% of the freight charge. For example, if an order is valued at 1,000 EUR and has a payment deadline of 30 days, factoring only costs 19.90 EUR," says Karolina Placek, TIMOCOM Customer Service Specialist.
The Juśkowiak brothers agree: "The biggest advantage that TIMOCOM customers have from factoring is how quickly your invoices get paid. Not only that, the service has a transparent, easy to use customer interface and uploading invoices for transport services is simple."
Good to know:
German companies can use the service directly after registering officially as a company (Gewerbeanmeldung) provided they have a positive credit rating. The same is true for foreign companies, but in this case verification may take longer.
The service is currently available to TIMOCOM customers in Poland, the Czech Republic, the Netherlands, Lithuania, Latvia and Slovakia.
Expansion is proof that the start-up founders knew what they were doing
Thanks to their passion for the business and a good nose for finding the right tools, such as TIMOCOM's System and the associated factoring service, TSL Justrans s.c. was able to grow and expand:
the company is particularly proud of their vehicle fleet, to which they were able to add another truck after only 3 years. This was possible in large part thanks to the factoring service and the liquidity it provided.
You are interested in building an international network and profiting from the advantages offered by TIMOCOM partners, just like TSL Justrans s.c.?
Apply now to test the service!
You may also be interested in:
View all TIMOCOM Start-Up Blog posts
TIMOCOM Start-Up Blog: Logistik-Startup gründen in Krisenzeiten
Secure cash flow: JITpay™ factoring service for TIMOCOM customers