When the warehouse safeguards not just products, but also profits
How to transform empty warehouse space into profit.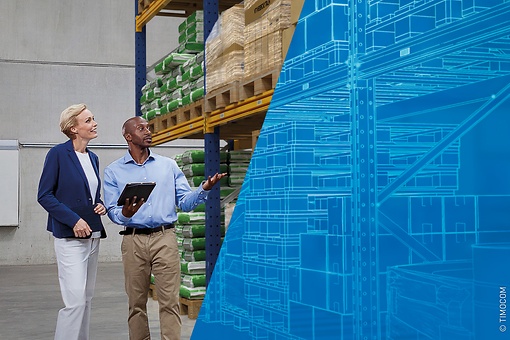 It seems like Christmas was only a few days ago, and already the next round of seasonal business is in full swing – for Easter. Warehouse capacity will soon hit its peak, and free warehouse space will be hard to find. Barely any warehouse space is available for the short and medium term – or so it seems. Not only that, researching suitable providers can take a long time, and time is money. It would be so wonderful if there was an application that brought together providers of warehousing and logistics spaces and potential customers, quickly and easily. With the simple click of a button.
Where to put the goods?
It happens every day: a truck arrives later than expected to unload goods. On site, the driver realises that he cannot unload the goods, because the receiving department is closed for the day. But the driver has to empty the truck. He has to pick up more goods at the next loading point, and time is running out. Every minute that the truck sits there with the goods costs money. Something has to be done – and quickly. A warehousing exchange can help. Regardless of whether there is an urgent unloading point problem, or whether additional space is needed at short notice due to seasonal business: a warehouse exchange helps bring providers of warehousing and logistics spaces and their customers together.
How does a warehouse exchange work?
A web-based warehouse exchange works just like a search engine. It can be used to offer and assign available warehouses and warehousing space. Providers use the system to advertise their available wa ehouse capacity including all relevant information. Then, companies that have goods but insufficient and/or no suitable warehousing or logistics spaces can find it via the exchange. A search function provides results that match the goods to be stored. To search, the warehouse exchange user enters the desired criteria into the search engine, such as type of storage, size or location. The system calculates the matches between the search criteria and the warehousing capacities on offer in the system. The result: a list with potential, available warehousing or logistics spaces containing all relevant information and allowing the user to contact the provider directly.
Why use a warehouse exchange?
The answer is simple: by means of a web-based warehousing exchange, companies can react even faster and more flexibly to possible bottlenecks in warehousing space. On the other hand, the exchange helps avoid unused space and optimise capacity utilisation. After all, empty space is unused capital. And a warehouse exchange does not just offer advantages to logistics professionals during peak times. Warehouses can be kept at capacity even as demand drops. A warehouse exchange helps throughout the year to avoid empty space if at all possible – increasing hidden earnings. Freight forwarders and companies also come out on top. Using a warehouse exchange, they require minimal personnel to select the perfect storage options throughout Europe, and compare costs.
Of course, the larger and more extensive the pool of offers, the better the chances of finding a suitable solution in the warehouse exchange. For example, TIMOCOM also offers a warehouse exchange as part of their Smart Logistics System; their network is by far the largest, offering the most and most varied storage space – at no extra charge. System users automatically have access to the warehouse exchange and therefore, potentially, to more than 7,000 warehouse providers from 44 European countries. The exchange easily meets the most varied of needs: from long term storage to hiring warehousing space for the short and medium term. The warehouse exchange helps to find the right storage option for any product, up to and including those decorative porcelain Easter bunnies.