TIMOCOM Transport Barometer:
strong recovery after slow summer in Q3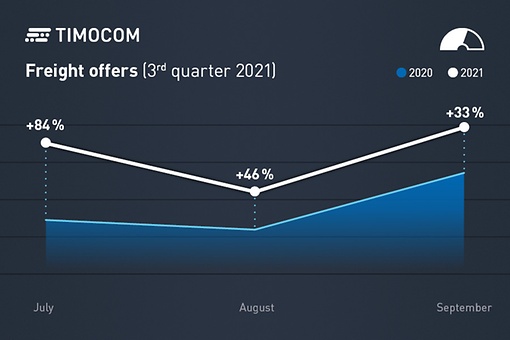 Road transport is booming. According to the TIMOCOM transport barometer, freight volumes across Europe rose a full 51 percent above the previous year's volumes during the third quarter of 2021. Even though they dropped slightly as compared to freight volumes in the second quarter of the year, these figures once again show positive momentum throughout the transport and logistics industry.
Discover how understanding current transport market trends can help your business by downloading the TIMOCOM transport barometer:
Market booming after summer slump
Freight entries were already at a record high in Q2, and they continued on that path in Q3. The first quarter of the year kicked off with 58 percent growth, and the second quarter broke records, with an increase of 251 percent as compared to the same quarter in 2020. Now TIMOCOM transport barometer results from Q3 are in: a 51 percent increase as compared to 2020, despite a slight decrease as compared to Q2 2021. August was comparatively slow, with -29 percent freight as compared to July 2021, but the market bounced back quickly, and there were 54 percent more freight entries in September, ending the summer slump
Q3: month by month comparison
A more granular analysis; July 2021 showed a slight slump of 6 percent when compared to June, which was a very strong month. And the slump continued in August, with 29 percent fewer freight entries. But that's not unusual, as Gunnar Gburek, TIMOCOM company spokesman, confirms: "It's a seasonal development. We usually see a drop in freight input during the summer months. August, in particular, tends to be a weaker month across Europe. Because of that, it's more important to focus on the continued positive developments as compared to 2020, as well the fact that the numbers went up again in September." There was an increase in road transport in September, with 54% percent more freight compared to the previous month and an increase of 33 percent as compared to September 2020.
Germany matches European trend
Developments in Germany reflect those across Europe, with similar figures in both markets. While it's true that freight offers within Germany went down by 18 percent as compared to the second quarter of 2021, they nevertheless rose significantly as compared to the same period in 2020. The result: the transport barometer recorded more freight than even that recorded in 2019, showing an increase of 47 percent as compared to the previous year (Q3 2021 to Q3 2020). When broken down into individual months, the results look as follows: July +105 percent, August +34 percent, September +24 percent.
Seasonal fluctuations are also responsible for strong increases of 60 percent in September as compared to August. "These developments can be attributed at least in part to the start of year-end business, including here in Germany," according to Gunnar Gburek.
The Polish market is not performing as well
In Germany, freight numbers are rising rapidly and noticeably, but the Polish market tells a different story. Although the transport barometer showed an increase in freight input of 26 percent as compared to the same quarter last year, the increase for Q3 2021 as compared to Q2 is comparatively weak at just 2 percent. July was a strong month, with an increase of 66 percent as compared to July 2020, but August only showed a 19 percent increase in freight as compared to the same month in the previous year. And September freight was at the exact same level as it was in the middle of the pandemic.
Transports from Benelux countries to Germany
Transports between the Netherlands and Belgium to Germany continued to rise. A comparison of Q3 2021 to Q3 2020 looks as follows:
NL -> DE: Jul: 276 % / Aug: 100 % / Sep: 110 %
BE -> DE: Jul: 388 % / Aug: 169 % / Sep: 121 %
Transports within France also grew significantly in Q3 2021 as compared to 2020: Month by month: July 32 percent, August 20 percent, September 28 percent.
Developments on the transport market from Hungary to Germany and Romania, and from Austria to Slovenia:
HU -> DE: Jul: 0 % / Aug: +10 % / Sep: -33 %
HU -> RO: Jul: -21 % / Aug: -7 % / Sep: -38 %
AT -> SI: Jul: -16 % / Aug: -18 % / Sep: -22 %
The European driver shortage is increasing dramatically
As developments in the UK show, the ongoing driver shortage is disastrous, both in Britain and in Europe. In the UK alone, there is a shortage of 100,000 drivers. In Germany, the Bundesverband Güterkraftverkehr Logistik und Entsorgung (Federal Association for Freight Transport, Logistics and Disposal – BGL) has noted that there is a shortage of up to 80,000 truck drivers and that number is growing. In Poland, too, they are in need of 100,000 extra drivers. "We are seeing significant drops in transport capacities across Europe, in particular in regards to vehicle space. And of course these developments mean that we can expect to see transport prices rise in the future," according to Gunnar Gburek.
If you want to stay reliably informed when it comes to dynamic transport market developments, download the TIMOCOM transport barometer and use it for free on your mobile device:
You may also be interested in:
TIMOCOM Transport Barometer: Freight volumes reach record highs in Q2 2021
Digitalisierung in der Logistik - Datenschutz und Datensouveränität bei TIMOCOM
IT-Defizite in der Logistik - So können Sie Blockaden vorbeugen