TIMOCOM customer stories: growing a business, developing trust: as a team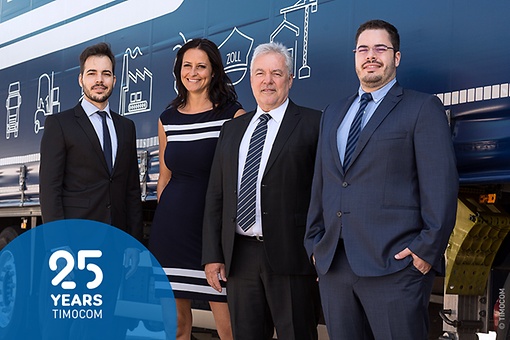 The Hungarian freight forwarding and logistics company Trans-Sped Kft have been using the TIMOCOM freight exchange for 24 years, making them one of TIMOCOM's very first customers. In this anniversary interview, read all about how the application improved efficiency for the transport company, their expectations for the coming year and why allowing shipping agents access to the platform has affirmed their decision to place their trust in the FreightTech company.
Csaba Tóths remembers the time before TIMOCOM well: "The biggest problem was that we didn't have a central system to help us find transport service providers," the Director of Transport explains. "We only had access to our existing contacts, so we had to use driver recommendations to find new business partners. And finding business partners abroad was even more difficult. We had no idea if there was any free vehicle space in their trucks, and definitely no access to information in real time," he adds,  going on to say that too much of his employee's valuable time was spent searching for free vehicle space.
TIMOCOM enters the market, dramatically improving efficiency and facilitating international business deals
Around this time, the German freight forwarder Jens Thiermann was facing the same challenges – and developed the perfect solution, the TIMOCOM freight exchange to solve them. In 1998, Lajos Szántó, Director of Freight Forwarding at Trans-Sped Kft., discovered TIMOCOM. "The digital freight exchange was launched in Germany in 1997 and was an entirely new innovation, one that brought transport procurers and service providers together," he recalls. "We always thought of ourselves as an innovative company, so we leapt at the chance to use the freight exchange to close the gap in the market."
The benefits of using TIMOCOM's System were quickly apparent.
"TIMOCOM's digital freight exchange was the first software designed for the sector," according to Director of Sales Antal Konyári. "We really noticed that our transport managers could work much more efficiently, saving lots of time, because we were receiving information in real time from the System. And back then it was hard to work internationally until we started using the System. But once we signed up we were able to meet new business partners, which really helped us expand."
The freight forwarder took advantage of TIMOCOM's international focus. Excellent customer service in the customer's native language played a major role. It simplifies the onboarding process and customers can easily access information on new features or find answers if they have any questions.
24 years of cooperation: personal connections, professional growth
TIMOCOM and Trans-Sped Kft. have built a partnership based on trust, a trust based on personal relationships. Ildikó Hock-Ritter, a former Trans-Sped Kft. employee, was the first person hired to work at TIMOCOM's Hungarian location, and has been managing it ever since. The close collaboration has, over the years, created an atmosphere of trust, based on shared values such as reliability, innovation and development potential.
According to all three of our interview partners, "the world is always changing, so innovation is very important. One great way to achieve innovation in the industry is to create APIs for interfacing with transport management systems." "We are confident that TIMOCOM will continue to innovate with and for the industry, creating features that support both transport service providers and shipping agents. If they continue to remain open to innovation, they have a great chance of celebrating their 50th anniversary."
About the Customer
Trans-Sped Kft. has been working in the logistics industry since 1990, and operates out of Hungary. They began as an international freight forwarding company that has, over the years, developed into a corporation with fast 800 employees, including subsidiaries and a national network of offices that houses departments focusing on different industry sectors. Trans-Sped offers comprehensive logistics services throughout Hungary, working from 16 regional offices to provide quick and efficient transport, freight forwarding, warehousing, customs clearance, manufacturing and added value logistics services to customers.
In March of 2022, Trans-Sped Kft. began a new phase of development, founding a wholly owned subsidiary focusing on eCommerce logistics.
You may also be interested in:
It's no secret:how TIMOCOM's freight exchange rose to success
Here's how tender platforms help you expand into new markets
TIMOCOM Start-Up Blog: Search for transport orders!