Logistics expertise
19.01.2021
Specialised success: heavy transport, music to our ears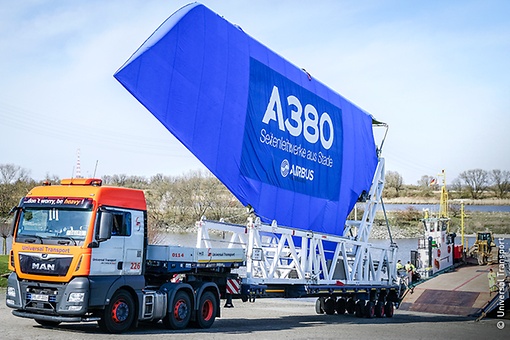 It's only a small segment of the transport market, but an impressive one: volume and heavy transport. It's not just the entire value added chain behind the specialisation. It's that there can be grave consequences if things don't go precisely to plan. Challenges such as complex projects, globalisation or a shortage of drivers are part and parcel of the job. Holger Dechant, Universal Transport CEO, explains how he and his company live up to their slogan: "don't worry, be heavy".
Passion and logistics, classmates and business partners
September holidays in the driver's seat, an apprenticeship at a freight forwarding company, and a degree from the Logistik-Akademie. His passion for logistics has not faded, and he is still working with the same old friends: Holger Dechant, together with his former classmates Markus Frost and Siegfried Witt, manages one of the largest German companies providing heavy load transport services. But is it a good idea to combine friendship and business? "It's been over 15 years now, and we still have a shared office and respect each other's individual strengths and differences," says Mr. Dechant.
Loading metres vs. tonnes, production vs. bureaucracy
The Universal Transport Group has 750 employees and offices in Sweden, Eastern Europe, Turkey, Egypt and even Malaysia. 450 of its employees are HGV drivers. Heavy load logistics drivers are under even more pressure than regular truck drivers. In Germany, they usually drive at night. And although many people might assume the weight of the goods is the biggest problem, that's not the only challenge. When transporting a rotor blade to a wind farm in Poland, Denmark or even Asia, for example, you are dealing with cargo that is over 80 metres long.  "That's almost as long as a football field," Mr. Dechant explains. In addition to bridges and prefabricated concrete components for wind powered energy systems, they also dismantle entire saw mills in Malaysia and transport them to new locations. Or deliver 24 trams to Mexico – that includes the entire shipping and handling process.  "The first question we ask when we get that sort of request is: how do I get the freight to the closest international port? Can the infrastructure handle it? What water routes are available?" Mr. Dechant explains. And it's a good idea not to underestimate the bureaucracy involved. Of course there's contracts and customs declarations, but also the matter of permits. "If permit processes get more complicated in Germany, then production will be outsourced, for example to Asia," warns the CEO.
Conductor and orchestra, project freight forwarder and team
"Don't worry, be heavy" is the company slogan, inspired by a hit song from the 80s. According to Dechant, it confirms that the company wants to take a load of their customers' minds – by taking care of the transport and all associated processes. This often involves 20-30 people. Routes must be planned in advance. They have to check that the roads are wide enough and scout out any other challenges they might end up facing. "The team is perfectly coordinated by a project freight forwarder," according to Mr. Dechant. The company finds suitable transport partners using TIMOCOM's System, where they are able to enter precise requirements for the transport. All System participants have been verified, and their qualifications and documents can be viewed in their company profiles.
Symphony of professional expertise, applause for soloists
Conscientious planning, flexibility and a large portion of complimentary professional expertise has made the Universal Transport Group successful. Mr. Dechant says it is the latter, in particular, that demands real appreciation: "We are fans of digitalisation, and, particularly over the last year, we have worked together to foster cooperation on a digital level. As long as we can't use a sci-fi transporter to beam 100 tonnes of cargo to its destination in an instant, we will need trucks and we will need professional drivers."
The logistics professional thinks it is a shame that this important job still does not receive the respect it deserves. "HGV drivers are trained professionals. They are qualified experts, and they should be paid and treated as qualified experts." He continues by saying that during the coronavirus crisis, in particular, transport industry professionals worked hard under difficult conditions to ensure that our daily lives could continue as normally as possible, and assures us that the company is continuing to work together responsibly but optimistically to master the crisis. After all, team spirit and humour are factors that should not be underestimated – as evidenced by the company slogan.
Find verified transport partners.