Smart logistics is the most important factor for promoting growth and improving cost efficiency
Intelligent connections in the transport and logistics industry are more important than ever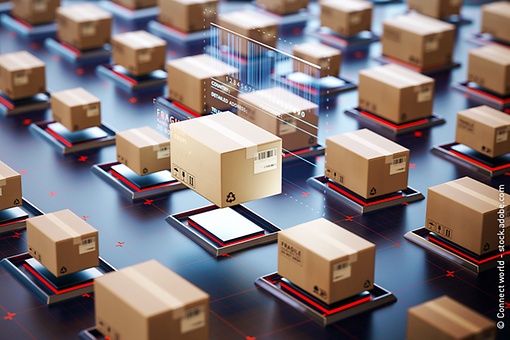 Smart logistics reduces costs along the delivery chain. That is the result of a study by consulting firm PwC. But what is smart logistics, and what does it mean for logistics processes? This blog post highlights the importance of intelligent connections in the logistics industry and how to implement them within your company.
Over the past few years, digitalisation has been a driving factor behind process optimisation, including in the logistics industry. It uses a series of technological innovations to improve processes and business activities. Artificial intelligence is being used more frequently for warehouse logistics, order picking is often automated, and digitalisation is taking over the still quite error-prone pallet exchange process. These are just a few examples that show how digitalisation is already simplifying and speeding up processes. 
Smart connections are the key to an efficient supply chain
The goal is not just to digitalise existing processes, but also to connect them to one another. Smart logistics is therefore an intelligent connection between road hauliers, freight forwarders, manufacturers and end customers – as well as the programs and systems they use.  This allows for interaction and efficient planning above and beyond the limits of your own operations.
After all, the logistics industry is not a lonely place, almost everyone works with partners such as freight forwarders, transport companies and warehouse service providers. Doing so makes economic sense, particularly for the manufacturing industry, where transport has been outsourced and companies rarely have their own fleets any more. But it also means an increase in the number of partners and external work processes, all of which need to be coordinated to ensure that the goods are delivered. In the future, therefore, it will be more important than ever to connect both internal and external systems with one another. Smart Logistics is the key to intelligent logistics.
An efficient supply chain reduces costs.
In a study done by PricewaterhouseCooper, or PwC, published in April 2020, more than 1,600 managers from 33 countries were asked what the future would hold. The participants noted that the most important task for the future is improving efficiency in the supply chain. In order to react to constantly changing market requirements, for example those resulting from the coronavirus and its effects, fully networked supply chain ecosystems are the key to remaining successful.
The surveyed companies recognised the importance and invested heavily in delivery chain excellence. The result, in 2019, were improved profits and cost savings of around 7 percent as compared to the previous year. More than 50 percent of those surveyed who had previously invested in supply chain excellence indicated that it had a positive or even very positive effect on their company. They believed that smart logistics was the most important factor for promoting growth and improving cost efficiency. 59% planned to continue to invest in smart logistics in the future.
Real-world applications: practical smart logistics
According to the PwC study, supply chain efficiency also means offering cargo to a fully networked transport market, in order to get the best transport price and find a service provider as soon as possible.
This is done via a digital system provided by a partner. The system automates processes between the two parties. TIMOCOM has already implemented parts of this vision for the future of logistics. IT interfaces, or APIs, that connect to other partners significantly speed up and optimise logistical processes.
For example, companies can partner with TIMOCOM to install the freight exchange interface, allowing them to search for and offer freight and vehicle space on the freight exchange that is part of TIMOCOM's Smart Logistics System. They no longer have to make two separate entries. This saves so much time.
Smart support for uncertain times
The PwC study also shows that intelligent connections in the transport and logistics industry are more important than ever before. And yet: "Smaller companies are often reluctant to make the investment," says Stefan Schrauf, Partner and Head of Operations and Supply Chain Europe at PwC. He's not just talking about money. In order to successfully introduce supply chain efficiency, the consulting firm recommends not just introducing new IT to the company, but also completely transforming all company processes. Systems such as those developed by TIMOCOM provide all the technical advantages without any cost or operative disadvantages.
Ensuring that business partners are seamlessly integrated into the entire logistics cycle is particularly important for managing and optimising logistics processes. Uninterrupted connection between networks allows companies to transform their own logistics network into a competitive advantage, helping them to better meet the challenges of the market.
The coronavirus pandemic is proof that the market can change quickly and drastically at any time. It is therefore essential to invest in efficient delivery chains to keep your company agile and flexible.
If you want to learn more about TIMOCOM's Smart Logistics System and other services from the IT service provider, you can do that here.