Logistics expertise
02.02.2021
How to plan customised, data driven transport for products you manufacture.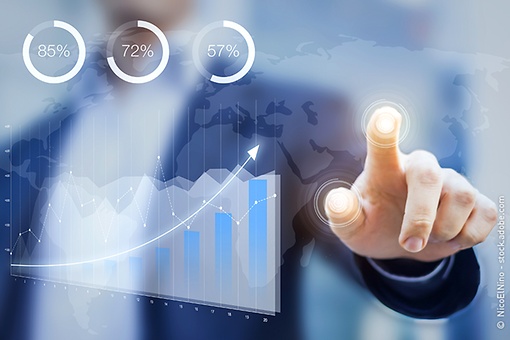 You want to dispatch the products you manufacture, independently, flexibly, and cost efficiently?
Digitalisation in the logistics industry is the way forward, helping you to do just that with comprehensive offers from IT logistics service providers such as TIMOCOM. In addition to classic applications for assigning transport orders, these service providers are able to deliver valuable insights into the state of both the industry and the market. With their help, you can assess and keep an eye on market developments, confidently negotiate transportation prices and plan customised transport of your goods.
Do you want to know more about transport processes? Take a look at the free TIMOCOM white paper (available only in German) "Transport Processes – Improved, Digital, Transparent."
Market conditions as a starting point: the TIMOCOM transport barometer tracks the market in real time
On the 15th of December 2020, the TIMOCOM transport barometer showed a ratio of 78 percent freight to 22 percent vehicle capacity on the international market. The pre-Christmas demand for transport was much larger in 2020, the year of the coronavirus, than it had been the previous year. This was because, even before the Christmas season began, many governments had introduced lockdowns to slow the spread of the virus. As a result, both panic buying and online sales increased dramatically.
The transport barometer gives daily updates on the number of freight offers compared to the amount of available vehicle space, covering routes across 44 European countries. As an industrial and commercial company, you will also be interested in the annual report, which compares developments in the current year to those of previous years. This shines a light on seasonal fluctuations, allowing you to prepare for them in advance, for example by predicting a lack of vehicle space caused by sudden spikes in demand for certain products.
You decide: set prices thanks to contracts or transport prices updated daily
Your goods must reach your customers. But you get to decide whether you select the more traditional method of issuing a tender and signing a framework agreement or whether you prefer to find service providers available at short notice on the spot market.
Do you want to avoid vehicle space bottlenecks from the get-go, or does it make sense for you, the transport customer, to work with a set service provider subject to a framework agreement. Framework agreements may not seem financially strategic at first glance, as they do not allow you to react flexibly to unpredictable fluctuations on the market. But your customers expect you to be reliable, both when it comes to ensuring the goods arrive at the agreed upon time and place, but also in terms of pricing.
TIMOCOM's freight exchange helps you to find transport service providers to transport your goods at short notice. This applies to any shipment, including full or partial loads that need to be transported at irregular intervals. Smart Logistics System applications help you to react flexibly to customer orders. Unlike tenders, the spot market allows you to work with varying transport prices that can change on a daily basis.
With a tender or freight offer in TIMOCOM's Smart Logistics System, you can potentially reach over 45,000 verified companies from across Europe. These professionals are able to meet your high quality transport needs and negotiate a fair price with you via the System, which acts as a neutral platform for your business activities.
Transport prices: what is fair, what is normal?
The following variable costs have the largest influence on transport prices:
Type of goods
Order volume
Vehicle costs
Kilometres
Toll fees
Duration and time
If you don't have a lot of experience negotiating transport prices, you can find help in TIMOCOM's System: bids from service providers sent to you as part of tenders or quote requests give you insight into current transport prices.
Not only that, the statistics function documents the prices you have agreed to based on quote requests and transport orders, filtered either according to route or service provider. In addition, you can choose to view prices from within a certain time period, so you can view developments in the transport prices you have negotiated over time; and this function can also be applied to a single service provider. In turn, your service providers also have access to this function. This allows you to negotiate new prices based on the available data and under consideration of current external factors.
Use data to confidently negotiate prices and make targeted dispatch decisions
The challenge lies in determining if a price is justified or not. The transport barometer, TIMOCOM's applications and the statistics function provide solid data that help you to judge whether prices are fair or not.
Develop an understanding for normal market prices, optimise your costs over the long-term and keep your customers and your transport service providers happy. Doing so will allow you to create a network of reliable service providers that can help you manage logistical challenges.
Try out TIMOCOM's Smart Logistics System and make data-driven dispatch decisions today
You may also be interested in:
Consolidating transport for manufacture and trade:
Here's how tender platforms help you expand into new markets
Nowcasting – high frequency indicators for up to date economic forecasts