Logistics expertise
17.08.2021
Steel shortages and delivery bottlenecks cause delays
Resource shortages affect creation of new storage space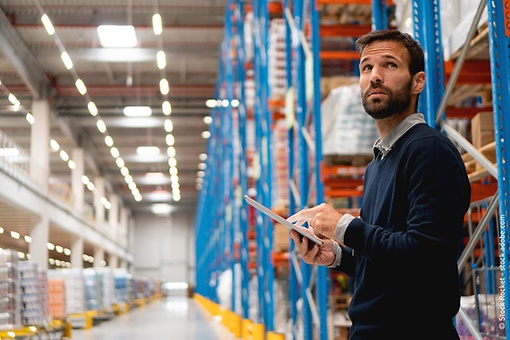 Steel shortages and missing parts are currently causing delivery bottlenecks and delays. Almost every second company in Germany is dealing with the consequences. The raw material shortage is also affecting warehouse equipment manufacture. How can companies find solutions and overcome these logistical challenges? Are vacant logistics and warehousing spaces short-term stop-gap solutions, or long-term alternatives?
Test the Smart Logistics System warehousing exchange now
H2 Bottlenecks: microchip and steel shortages
The world began to experience bottlenecks, the result of measures designed to contain the pandemic, in 2020. Private households hoarded goods, snatching up and storing necessities well beyond what they could use themselves. For manufacturers, storing raw materials required to manufacture products is difficult over the short-term, and practically impossible over the long-term. This is due to resource shortages, caused among other things by the difficult circumstances experienced by the global logistics industry, which temporarily ground to a halt due to the pandemic. And as if that wasn't enough: the Suez Canal accident and a second coronavirus outbreak in the port city of Shenzhen caused additional delivery problems and delays, which in turn caused shortages of both steel and microchips at the beginning of 2021. In some cases, factories had to reduce production capacities, while the driver shortage and lack of warehousing space create additional transport bottlenecks. As a result, the Industrieverband Blechumformung (German Industry Association for Sheet Metal Forming) called for an adjustment to demand and manufacture as a means of preventing production from shutting down altogether. Material shortages are a particular problem for the automotive, engineering, and electronics industries. However, these industries recovered more quickly than was predicted. Despite that, the German economy had not quite recovered to pre-pandemic levels by the end of 2020. And now, the raw materials shortage is affecting manufacturing efforts, slowing additional growth. 
Increase inventory – but how?
Of course, the solution is to increase inventories in order to reliably provide customers with the products they want. Warehouse technology is a key corporate logistics component, assisting with procurement, manufacturing and distribution to ensure that everything runs smoothly. Warehouse technologies include counting, measurement and weighing devices, and of course IT and identification systems. But raw material shortages are making it hard to purchase these necessary technologies.
Prioritise and make good use of existing capacities
What can industrial and commercial companies do to manage these challenges? Companies who sell steel currently do not need much storage space. New inventory is sold almost as soon as it enters the premises. In some cases, logistics spaces and warehouses are empty. Companies with access to temporarily empty storage space can offer up their available space on warehousing exchanges. Renting warehousing space from experienced logistics partners pays off, because it allows companies to make use of warehouse technologies that are already in place within the rented warehouse. A company in need of space can rent floor storage or rack storage including all warehouse logistics equipment, avoiding the need to invest in said equipment themselves.
It's an attractive alternative for companies that need additional storage space at short notice.
And renting warehouse space is the perfect option right now, because there is no need to wait for the raw materials required to build or extend company-owned warehousing solutions. Companies can find warehouse space whenever they need it on the warehousing exchange, part of TIMOCOM's Smart Logistics System.