Port congestion in the USA causes global delivery chaos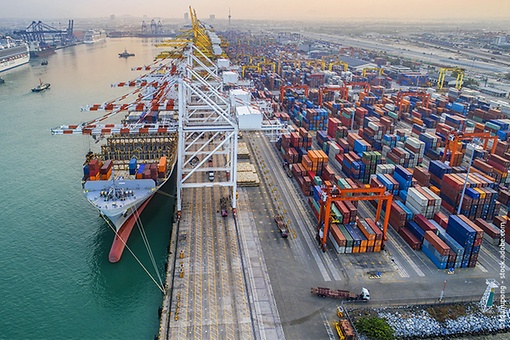 First the Ever Given blocked the Suez Canal, then China closed its harbours, and now there are container ships lining up to get into America's largest ports. Around 4,000 container ships are currently waiting for harbour access. The two largest ports, Los Angeles and Long Beach, have been the worst affected. But Europe, too, is already seeing the effects of freight delays, albeit in a weaker form.
Imports have risen sharply
The two US ports, Los Angeles and Long Beach, are responsible for handling around 40 percent of US imports. And they are currently in a state of chaos. Around 100 ships, each carrying 24,000 containers, fully loaded with goods from Asia, are sitting idle as they wait for entry into the Los Angeles port. According to extrapolations by the Kiel Institute for the World Economy IfW, the number of containers waiting for entry to the two largest US ports represents about three percent of global freight capacities.
IfW experts expect that the situation will improve only slowly over the coming months. Industrial and commercial transport customers must act now to secure cargo space and protect their supply chains.
Over maximum capacity
But what is causing congestion at the ports? There's a simple explanation. Transport customers are ordering more goods than required due to bottlenecks caused by the Coronavirus pandemic. They hope that by doing so they will receive at least some of the goods they order. This has increased both the number of containers in the ports as well as the number of container ships requesting entry. But the on-site infrastructure is not designed to handle that many containers. There are simply not enough docks or warehouse space, to say nothing of freight trains, trucks and personnel. This means that there is not enough space to store the sheer number of containers, and the turnaround time – that is, how long it takes before a container can be unloaded and sent on its way – has increased. At this point, it can take up to a week for a container to be unloaded. "The problem is that our ports are handling more than ever before, namely record volumes of goods, but our supply chains cannot keep up," according to Pete Buttigieg, US Secretary of Transportation, on CNN.
President Joe Biden announced that work at the ports will be allowed to continue around the clock in the hopes of clearing up the congestion. However, a shortage of workers means that it could take months to implement this plan. Companies operating out of Long Beach have also received special permission to stack four containers on top of one another on sites outside the port itself. Previously, the limit was two containers.
The situation in Europe
The effects of container congestion on supply chains are being felt around the world. The USA is practically drowning in containers, but in Asia they are currently a scarce commodity. Most containers are being booked at extremely high prices. Before the pandemic, the average price sat at around 2,000 US-dollars per container; today, a container can cost up to 20,000 dollars.
In Europe, the ports at Rotterdam, Antwerp and Hamburg are also struggling with container congestion. But the port at Felixstowe in England is the hardest hit. It is currently receiving so many containers that the shipping company Maersk is temporarily refusing to ship anything there.
And the truck driver shortage in Europe is not helping matters. Just like in the USA, containers cannot be picked up at the desired time, and remain sitting at the port. But that means that cargo ships that arrive at the ports cannot be unloaded, causing congestion. All in all, however, the problems here are nothing compared to what we are seeing in the United States.
Industry is suffering
Even though the congestion at the ports of Rotterdam and Hamburg is currently manageable, it is having a big effect on industry. Primary product bottlenecks are causing production loss. The uneven distribution of containers is preventing companies from exporting German goods. Many products are already seeing backlogs of longer than six months.
As with the Suez Canal disaster in April, it is very important that companies stay flexible in order to secure production, warehouse space and on-time deliveries. After all, the IfW says the situation will improve at the earliest in February of 2022. That's when China celebrates their new year. In the past, the festivities have acted as a sort of restart button for the logistics industry.
Avoid bottlenecks
We recommend that you secure your supply chain early to help avoid transport capacity bottlenecks. The Smart Logistics System can help you process quote requests quickly and efficiently. It allows you to keep an eye on the status of your shipment, assign orders within just a few minutes and makes digital editing or invoicing of orders simple. We help you stay flexible and find the right service provider at any time. In addition, you have the option using our System and warehousing exchange application to access over 7,000 warehouse spaces in 46 European countries. If you already make use of your own IT systems, you can integrate our services with your existing architecture via interfaces.
Get the Smart Logistics System now
Other interesting articles:
Risiko Versorgungskollaps im UK
The Ever Given and the Suez Canal: consequences for the logistics industry Lieferengpässe bei Stahl & Technik führen zu Verzögerungen