Logistics expertise
12.07.2023
Paperless transport: it's as easy as 123.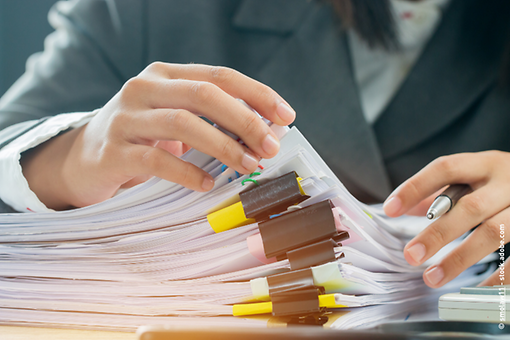 Transport processes, without stacks of paper? The digital consignment note is here to help. From a technical standpoint, the e-CMR has been available for a long time. However, in Germany and other European countries, implementation has been slowed by legal hurdles, even though digital consignment notes offer a plethora of benefits, both for transport companies and for the environment. This blog post explains those benefits, as well as providing tips on how to digitalise your transport processes.
Still searching for the right tool to digitalise your transport processes? Discover the transport orders application in the TIMOCOM Road Freight Marketplace and get digital!
 Want to save time and money? No problem!
The biggest advantage offered by the digital CMR is that it saves time and money. Estimates state that using an e-CMR could save up to four euros per document as compared to analogue consignment notes. Considering that around 150 million consignment notes are issued in Germany each year, the digital consignment note represents a potential savings of 600 million euros.
And of course there are other advantages:
if digital consignment notes were standard, they would be able to interface with other systems, such as TMS and others.
Plus, damage to freight could be documented in real time.


The e-CMR will soon be here to stay
Even though the e-CMR would make transport processes significantly more efficient, it is not yet in widespread use. This is in part because implementation of the e-CMR requires investing in the necessary technology. Plus, the legal situation is unclear, so companies are reluctant to adopt the new technology.
It's true that the German Commercial Code, as of 2013, states in Section 408 that "An electronic record fulfilling the same functions as a consignment note is considered equivalent to the consignment note". However, it also states that a statutory instrument is required to determine "the details of the issuance, carrying and presentation of an electronic consignment note, as well as the details of the procedure for making subsequent entries in an electronic consignment note." This instrument does not yet exist.
In spite of this, the move towards a digital consignment note is getting ever closer. In 2019, the European Parliament and the European Council decided that the use of digital consignment notes will be compulsory starting in 2026.


Paperless transport orders in practice
Digital processing of transport orders is already possible, and has been for some time. And yet paperless dispatch is not nearly as common as it should be. After all, why would you communicate over the phone or by fax when it could be so much easier? Digital tools such as the transport orders application in TIMOCOM's Road Freight Marketplace help you to process your transport orders entirely digitally. Communicate with your business partners quickly and save additional time during data acquisition.
An additional advantage: all your transport orders will be automatically translated into your service provider's language, eliminating language barriers. And of course we are very focused on security for the transport orders application. High data security standards protect your data, and when you hire a service provider, the transport order becomes a legally binding document.


Benefits:
Keep an eye on things All transport orders are saved in a central location, so they are easy to manage
Communicate quickly: digital processing saves you time and money
Be understood: eliminate language barriers, as the order is automatically created in your business partner's language
Stay safe: your data is well protected and can be saved for 10 years thanks to the archiving feature
Sound interesting? Then start your non-binding trial period now, to get fit for the digital future!