Owning warehouse and fixed delivery routes as a business strategy for IMEX Logistics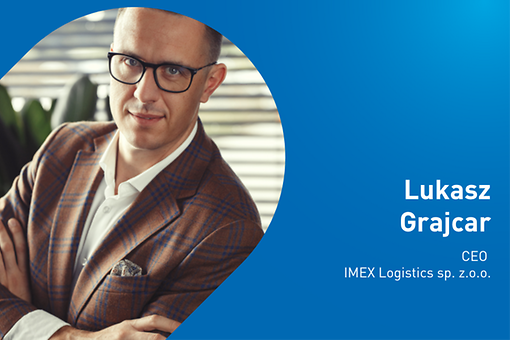 The transport industry is in a challenging position today. In addition to the economic and geopolitical situation, entrepreneurs from the TSL sector also have to face staff shortages, changing legal requirements, as well as well-known everyday challenges, such as timely deliveries and maintaining the quality of services. This makes it all the more important to choose the right company development strategy, of which well-chosen specialisation is an integral foundation.
Where did you get the idea to start a business in transportation?
We adhere to the principle that a company should have a defined identity and specialise in selected directions. You can't guarantee the best quality by doing everything and saying you go everywhere – says Łukasz Grajcar, president of IMEX Logistics sp. z o.o. 
His company has been operating for 12 years as a supplier of partial and general cargo from all over continental Europe to Scandinavian countries. Annually, it carries out about 45,000 orders, including transport for the automotive, machine, wood and paper industries, as well as the exhibition industry. The choice of such a speciality was not accidental - it results from the previous, long-term experience of the founders of IMEX Logistics.
"We started working in logistics 20 years ago, gaining our first skills in Danish shipping companies. The Scandinavian markets are therefore a natural continuation of this path, and the knowledge we gained about them is paying off today. - Lukasz Grajcar reveals - Especially in the current turbulent transport situation, experience helps us to effectively analyse the markets for the most diverse scenarios and successfully respond to our customers' needs."
How to manage international deliveries of groupage and partial loads?
One of these needs is undoubtedly the storage of goods. IMEX Logistics has its own warehouse of over 5000 m², located 40 km from Poznań. It also houses a recognised customs agency, which allows customs clearance directly at the warehouse. Such a solution is useful for imports from Norway, for example. Łukasz Grajcar admits that due to the company's specialisation in LTL and groupage transport, having its own warehouse has become a necessity in order to carry out distribution in an efficient and orderly manner.
"The undoubted advantage of having our own warehouse is the flexibility towards our customers' needs. - emphasises the company's president - We can freely manoeuvre delivery dates without fear of blocking trailers if it turns out, for example, that the recipient expects the delivery only after a few days."
How to manage warehouse space efficiently?
A warehouse - just like a truck - cannot stand empty in order to earn money. That is why IMEX Logistics offers temporarily unused warehouse space for rent.
"This is where  the TIMOCOM Marketplace comes to our aid, where, by advertising free warehouse space, we continually expand the range of customers interested in storing goods with us or in transhipment services. - emphasises Łukasz Grajcar."
What else should a good transport company strategy include?
In addition to transport, forwarding and warehousing, one of the key processes for IMEX Logistics is recruitment. A well-chosen and motivated team is more effective in achieving its goals and is more willing to set new ones. We hire people who want to develop and actively contribute to the company's growth; people who understand the importance of well-organised logistics - says the CEO.
The new hires have someone to learn from, as most of the management team has been with the company since the beginning and are happy to share their knowledge and experience in acquiring and retaining customers. Digital tools that give access to a database of proven companies are also important:
"We use the TIMOCOM Transport Exchange on a daily basis. For us, this is a powerful knowledge base of contractors from all over Europe. Thanks to it, we have contact with almost every major company, especially when it comes to Scandinavian companies. - says Łukasz Grajcar."
TIMOCOM's mission is to make logistics smart, safe and simple, which is why supporting our customers in building and developing their specialisation is extremely important to us. We are creating a network of more than 50,000 verified companies from 46 countries, so that companies focused on international transport, like IMEX Logistics, can easily reach contractors from selected countries - for example, Scandinavia. - concludes Paweł Rydelek, Team Leader Customer Service at TIMOCOM.