Specialised success: how to increase efficiency using double deck trailers.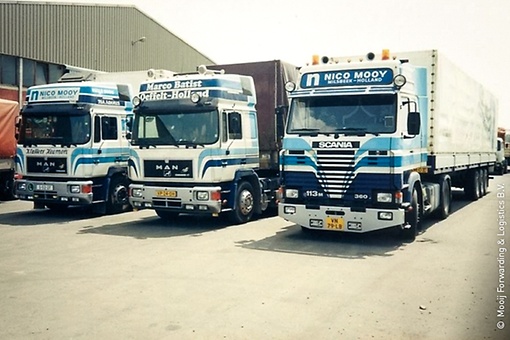 The automotive industry was hit hard by the coronavirus crisis last spring. Factories stood still, supply chains were disrupted, orders cancelled. There was nothing Nico Mooij from Mooij Forwarding in Milsbeek could do except wait and see.
Career in logistics beyond traditional paths
Company founder Nico Mooij did not exactly take the easy road. He started his own transport company at the end of the 80s in the Netherlands, taking goods to Poland even though most businesses at that time drove to Italy or Austria. Today, Mooij Forwarding manages three locations with large warehouses in Germany, Poland and the Netherlands, and has almost 140 employees. Their yearly turnover: EUR 23 million. With 62 company-owned trucks and 45 established business partners, Mr. Mooij serves a wide range of customers – from the food industry, from chemical and pharmaceutical companies, and from the automotive industry.
Automotive industry goods on the move again
According to Mr. Mooij, worries about low order volumes after the first coronavirus lockdown were unfounded. But Maciej Teklak, his branch manager in Legnica, Poland, had other problems to deal with: "Many of our HV drivers, for example, come from Ukraine and had to spend two weeks in quarantine on arrival. That was difficult for all of us." But they have learned from the first wave of the coronavirus and now make sure that the flow of goods can continue uninterrupted. "90 percent of our transports are partial loads. Automotive components used to make shock absorbers. We deliver the parts and then collect the finished shock absorbers."
Good decisions helped in navigating the crisis
Excellent organisation was what helped many logistics companies navigate the difficult coronavirus crisis. And Mooij Forwarding was no exception. Their goal was to maximise capacity, and to do that, they made good use of digital networks. "We have a lot of customers in Berlin who produce seasonal goods. That means seasonal peaks, so sometimes we need more capacity than is available. And for that, we use the freight exchange in TIMOCOM's Smart Logistics System," Mr. Mooij reveals. In the Milsbeek headquarters, they are constantly searching for transport partners and additional loads. "We set up our location in Poland so that we could always add more goods to a truck as needed. Our goal is to always reach maximum capacity," according to the experienced CEO.
The strategically selected locations and sophisticated distribution centres are now paying off more than ever before. Each location is close to a highway – and Legnica in Lower Silesia is part of an important economic industrial area. The manager of the Legnica location praises Mooij's system:  "The locations are the perfect distance apart. Our drivers can be at the next centre within 10 hours, ready to load and unload." Five to ten semi-trailers drive from Legnica towards the Netherlands daily. Once they arrive at the Milsbeek distribution centre, the goods are removed from the larger vehicles, loaded into smaller ones, and delivered regionally. "This means that we are more flexible, and the goods get to the customer faster," Mr. Teklak explains.
Double-deck trailer, triple the profits
Another unique selling point: all Mooij vehicles have double-deck trailers. Steel rails (C-profile) and extendable aluminium load restraint bars can be used to quickly add a second cargo deck. The maximum loading capacity of this deck is up to 12,000 kg. The additional deck offers space for 33 EUR-pallets, doubling the number of pallets that can be transported. "We were able to reduce the number of weekly transports for a key account from 75 down to 30 to 35 loads per week," reports Mr. Mooij. And doing so saves more than time and money. Right now, the extra deck is creating badly needed capacity, as there are not enough vehicles or drivers available on the transport market.
Excellent organisation creates good working conditions for HGV drivers
The company is very well organised, which also creates favourable working conditions for Mr. Mooij's drivers. They are able to work in a relay system, simply passing the loaded trailers onto a new driver at the next distribution centre. That driver then continues transporting the goods. This is efficient and allows the drivers to end work on time. They do not exceed driving times set out by law and they are never very far away from home. Legnica even has a 'driver's house' where they can stay the night, shower, cook and wash clothing. If an order would require overtime or overnight driving to get it done, Mr. Teklak prefers to make use of the Smart Logistics System: "We manage about 25 percent of our partial loads with help from TIMOCOM's System," he says.
Strategically two steps ahead
Mooij Forwarding carries out around 3,000 transport orders per month from its three locations. For new projects, the logistics company prefers to hire transport partners via TIMOCOM's System. They say doing so allows them to discover what exactly the customer needs, and generates approximately EUR 200,000 more turnover each month. In addition to the double-deck trailers, Mooij's large warehouse spaces are really paying off: "Lots of other companies have had to stores their goods during the coronavirus crisis, and they are renting warehouse space from us." Mr. Teklak attributes the company's success to founder Nico and his wise foresight: "Our boss is always at least two steps ahead strategically. You really scratch your head about some of the decisions he makes. Then, six months later, you figure out that it was exactly the right thing to do," he explains with a smile.
Nico Mooij is making plans to expand his network of transport partners and customers. No doubt his means of doing so will once again astound and amaze his employees. But one thing is not in doubt: he will continue to use the Smart Logistics System.
Why not expand your logistics network?